Germany's H2FLY will within the coming weeks commence flight tests of its HY4 aircraft for the first time using liquid hydrogen to run its fuel cell powertrain.
At the heart of the update is a new cryogenic hydrogen storage system developed by Air Liquide.
Ground tests of the system began in April at Air Liquide's site in Sassenage near Grenoble in France and included successfully coupling the tank with the aircraft's fuel cells.
Now the company is eyeing flight tests "within four to six weeks", said chief executive Dr Josef Kallo, speaking at the recent Paris air show.
Flight activities will take place in Maribor, Slovenia and Air Liquide is now building up the required ground infrastructure to supply the liquid hydrogen on site.
Kallo says the latest iteration of the system has "performed well" during the ground test phase, which included running the aircraft's electric motor and propeller. "As an engineer, I am more confident when I see the system works," he adds.
Previously the HY4 has run on gaseous hydrogen, which, while presenting fewer engineering challenges around its storage, has worse volumetric energy density than liquid hydrogen.
Development of the liquid hydrogen powertrain has been part funded by the EU-backed HEAVEN project under its Horizon 2020 initiative.
Separately, H2FLY has unveiled a new high-power version of its H175 fuel cell system. Designed to be operated at altitudes of up to 27,000ft, it is targeted at commercial aircraft applications.
Initially sized at 175kW, Kallo says the design is scalable to provide megawatt-class power output – he refers to a system he calls the H2000 – suitable for aircraft with 20-80 seats.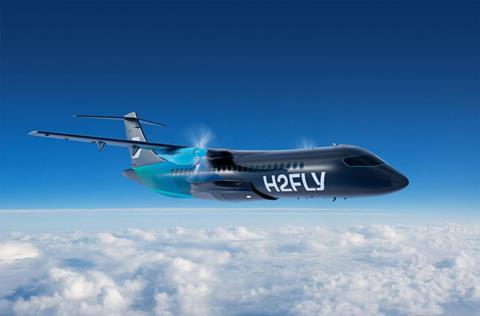 Upgrades include an improved hydrogen delivery control system, optimised for high-altitude flights, and validated through flight tests aboard the HY4.
A larger version of the H175 system will later equip a Dornier 328 flight-test aircraft being converted alongside partners GE Aerospace and type certificate holder Deutsche Aircraft.
Dubbed the 'Alpha', the Do 328 will retain its existing Pratt & Whitney Canada PW119 engines, but gain a pair of 1MW fuel cell-powered electric motors on outboard wing stations.
Riaan Myburgh, chief engineer research and technology at Deutsche Aircraft, says the project is "progressing very well" as it moves towards ground testing in early 2024. The first hardware for the project has been ordered and GE has begun building the motors, he adds. "We have moved out of the design phase into the testing phase."
However, Myburgh stresses that the project – called 328 H2-FC – is not a successor to the current D328eco programme.
"It's a technology demonstrator aircraft. Our job is to learn [about] and integrate future technology. Some of that might find its way on to a future programme. At this point we are busy learning and experimenting which will inform decisions on future products," he says.
"There is no follow-on programme planned at this stage. Successful implementation of the D328eco is our absolute focus at the moment," says Deutsche Aircraft chief executive Dave Jackson.

Dominic Perry is deputy editor of Flight International but also contributes extensively to flightglobal.com. Although specialising in the coverage of the helicopter industry, he has written on most topics in aerospace – be they commercial, defence or business aviation. In addition, there has been an increasing focus on the decarbonisation of the industry and zero-emission flight initiatives.
View full Profile