H2FLY has begun installation of a new liquid hydrogen storage system into its fuel cell-powered HY4 aircraft.
Integration of the cryogenic tank followed the successful completion of vibration and leakage trials by partner company Air Liquide in September.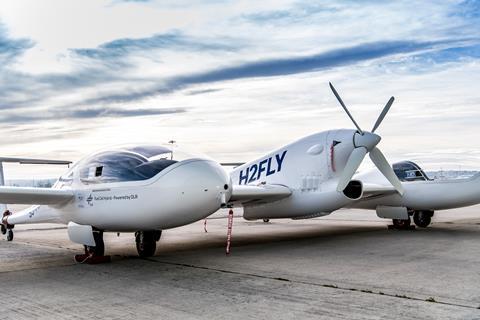 To be completed over the coming months, the process will allow the start of ground testing in early 2023, followed by a first flight later that year.
Stuttgart-based H2FLY sees the switch from gaseous to liquid hydrogen as key to achieving longer-range flights.
Development activities are being conducted under the EU-backed Project Heaven, an initiative to integrate a fuel cell powertrain using cryogenic technology onto an existing aircraft for testing.
H2FLY is leading the project – providing the fuel cell system and overall architecture and controls – and is supported by Air Liquide, aircraft manufacturer Pipistrel, and German aerospace research body DLR.
Dr Josef Kallo, co-founder and chief executive of Joby Aviation-backed H2FLY, says: "Passing the vibration and leakage tests marks a big step forward for delivering true zero-emissions flight with increased range - we have now been able to kickstart the mechanical integration process, drawing even closer to this next exciting flight-test phase."
H2FLY has been testing the latest iteration of the HY4 since 2020. It is also partnered with Deutsche Aircraft to develop a fuel cell powertrain for the D328eco regional turboprop.

Dominic Perry is deputy editor of Flight International but also contributes extensively to flightglobal.com. Although specialising in the coverage of the helicopter industry, he has written on most topics in aerospace – be they commercial, defence or business aviation. In addition, there has been an increasing focus on the decarbonisation of the industry and zero-emission flight initiatives.
View full Profile