Advanced powertrain developer H2Fly expects its fuel cell-powered HY4 demonstrator to be back in the air by the summer following the installation a new liquid hydrogen fuel system.
Previously operating on gaseous hydrogen, the switch to the cryogenic alternative has been performed under the EU-funded Heaven project, which also includes partners Air Liquide, German research body DLR, and Pipistrel Vertical Solutions.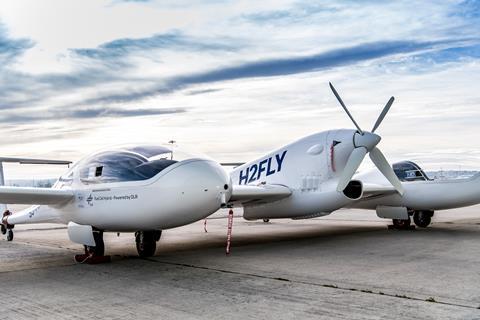 Tests of the fuel system are currently under way at Air Liquide's campus near Grenoble in France, says H2Fly chief executive Dr Josef Kallo.
That will be followed by a run of the whole fuel cell system "in the next couple of weeks", leading to a ground-test programme in March or April and flights of the HY4 in summer from H2Fly's base at Stuttgart airport in southwest Germany.
Kallo says the change to liquid hydrogen will "at least double" the HY4's performance, taking range to around 810nm (1,500km) from 380nm previously.
Save for a handful of new components, and the revised fuel supply, there are no changes to the 125-130kW-output fuel cell system, he says.
The aircraft will initially be flown in a "hybrid" configuration, using both gaseous and liquid hydrogen, says Kallo, before an eventual switch is made during the project's latter stages.
"It is simply to gain confidence in the systems and show the authorities we are moving step by step," he adds.
A previous test campaign ran until June last year, providing a better understanding of "how to deal with operations on the ground", including refuelling requirements and the aircraft's integration with other airport operations.
That work was carried out predominantly at Stuttgart airport, with additional testing performed at Friedrichshafen and Mengen airports – the latter becoming part of the process after storm activity at Stuttgart forced the HY4 to divert.
"We had to establish in one day a hydrogen refuelling station at Mengen airport," says Kallo.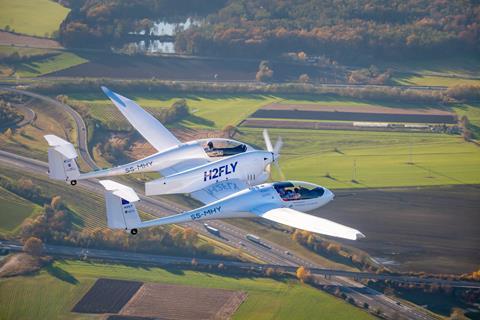 Meanwhile, development is progressing on a larger 1MW system that will make its flight debut in 2025 aboard a Dornier 328 being modified by Deutsche Aircraft.
Components for that system have been purchased and are being assembled, says Kallo; ground testing of the full powertrain should begin in April or May, he adds. The fuel tank for the system is also in manufacturing.
H2Fly's development efforts will also be bolstered by the start of activities that year at a new hydrogen aviation centre to be built at Stuttgart airport.
Partly funded by the state of Baden-Wurttemburg, the facility is designed to be a centre of excellence for the emerging technology, says Kallo.
"It will bring together experts in energy conversion and hydrogen technology with experts in integrating experimental systems into the plane."
Test stations will enable trials of systems up to 1MW prior to their installation in an aircraft, plus the evaluation of storage and refuelling systems.
It will also allow airport operators, regulators, refuelling providers and other potential partners to gain experience in hydrogen aircraft operations.
Construction of the facility will begin later this year. It will also serve as the company's headquarters from 2025.

Dominic Perry is deputy editor of Flight International but also contributes extensively to flightglobal.com. Although specialising in the coverage of the helicopter industry, he has written on most topics in aerospace – be they commercial, defence or business aviation. In addition, there has been an increasing focus on the decarbonisation of the industry and zero-emission flight initiatives.
View full Profile