German hydrogen powertrain specialist H2Fly is continuing to ramp-up flight testing of its fuel cell-powered HY4 aircraft ahead of a planned pause later this summer as it switches to a new fuel type.
Operations with the twin-boom HY4 restarted at the end of February as the developer assesses changes to the latest iteration of its 130kW powertrain, notably to the control system.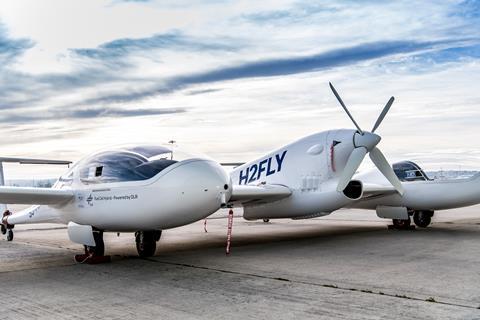 Since then, around 18 flights have been performed, says chief executive Dr Josef Kallo, including taking the aircraft to a new record altitude of 7,200ft.
While that achievement helped to grab headlines, Kallo stresses that the trials were vital to assess the suitability of a new temperature control system designed to optimise the performance of the fuel cells at different altitudes.
"It is a new control algorithm which ensures that at low altitude or at high altitude that we always get the maximum performance out of the cells," he says.
Test flights have so far been conducted from Stuttgart airport in southwest Germany, but the HY4 last week transitioned to Freidrichshafen, around 69nm (127km) to the south, to take part in the Aero general aviation show.
Kallo says the aircraft should return to its Stuttgart base on 1 May, allowing the resumption of flight-test activities, including further integration work with the airport.
This phase of testing should run until mid-June, when the aircraft will be dismantled and its current gaseous hydrogen fuel system replaced with one using liquid hydrogen.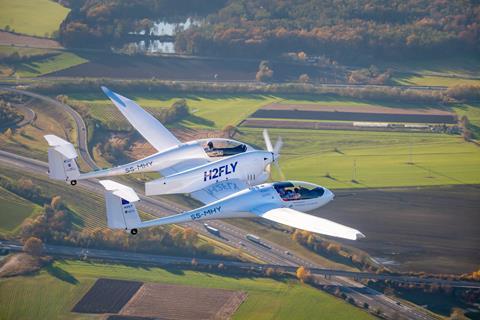 Ground trials of the upgraded aircraft – which will see its range at least doubled to 800nm – will then proceed from late-September onwards, he says; H2Fly hopes the trials will give it a better understanding of the requirements for ground handling and infrastructure.
Further flight testing, beginning towards the end of the year, will allow H2Fly to evaluate the performance of key components for a future 1MW-class powertrain on the smaller – and cheaper – 130kW system.
"The investment is too high if we do something wrong and we have to rearrange or rebuild the big system; that's very expensive," says Kallo.
The 1MW fuel cell powertrain will eventually equip a version of the Deutsche Aircraft D328eco, which is intended to enter service towards the end of the decade.
H2Fly has begun the process of preparation for part 21 design organisation approval, the first step towards achieving certification for the 1MW powertrain in around 2028.