HAECO has signed a memorandum of understanding with Chinese advanced air mobility firm EHang to explore cooperation in the "blooming new segment".
The agreement will span areas like manufacturing and assembly, airworthiness, as well as MRO and talent training. Both companies also hope to work towards developing systems and solutions that that cater to the needs of continued airworthiness.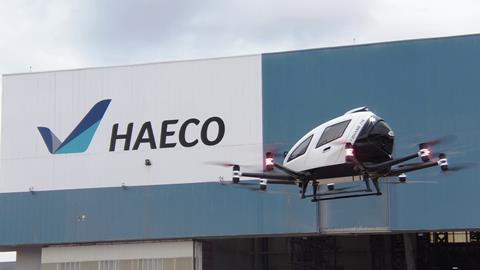 The move comes as Guangzhou-based EHang prepares for the commercial operations of its passenger-grade electric vertical take-off and landing (eVTOL) aircraft, the EH216-S.
EHang operations chief Xin Fang says: "[This] partnership is a critical step EHang has taken for its strategic goal of becoming an urban air mobility (UAM) platform operator, and it will also drive the emerging global UAM industry to explore more comprehensive, efficient, and sustainable operating service mechanism and ecosystem."
Adds HAECO group director for airframe services Jacqueline Jiang: "Advanced air mobility is a blooming new segment in the aviation industry…HAECO is well positioned to support EHang and jointly develop the systems, standards, and services required in advanced air mobility."
HAECO chief commercial officer Richard Kendall previously told FlightGlobal that the MRO provider is keen to explore opportunities in the advanced air mobility sector.