GE Aerospace and Hainan Airlines have signed a 10-year agreement covering systems support for the carrier's fleet of Boeing 787 aircraft.
The contract will cover GE systems on the 787s, which include its avionics and other computing and networking systems. Hainan operates a fleet of 38 787s.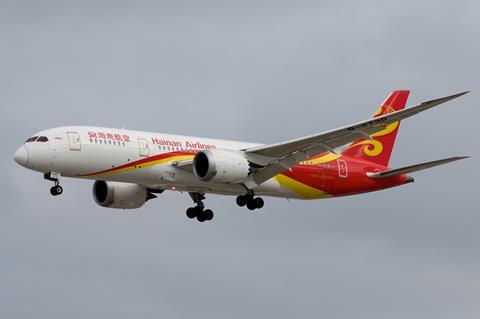 GE says it will provide support from Singapore and its new facility in Brisbane, Australia. The company will also provide a 787 component pool at Hainan's Haikou hub.
"The programme for Hainan Airlines' 787 fleet will provide an optimised solution for through-life support and includes repairs, stock holding, inventory management, programme management, configuration control, engineering change control, technical documentation, obsolescence management, and reliability trend analysis," says GE.
Matt Burns, GE's general manager for avionics, adds: "This agreement is a flexible services program designed to reduce operator costs and maximise aircraft availability."
Hainan is the third Chinese carrier to tap GE's component support, after Air China and China Southern Airlines.