Canadian commuter airline Harbour Air expects to conduct additional flight tests of its electric-powered de Havilland Canada DHC-2 Beaver as soon as next week as it builds off a successful first flight last month.
Harbour also intends to meet with Canadian regulations next week to plan the aircraft's certification programme, including the certification timeline, Harbour Air chief executive Greg McDougall tells FlightGlobal.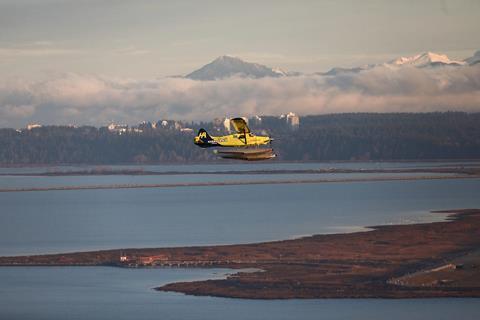 He expects certification will take two years, possibly less, and plans eventually to launch passenger flights with Beavers powered by Magni500s – an electric propulsion systems made by Washington-based Magnix.
Harbour also has ambition to operate Magni500-powered Cessna Caravans. The company currently operates six-seat Beavers, nine-seat Caravans and 19-passenger Twin Otters, flying short routes from Vancouver.
"We are on to the next part of the programme, which is to get it certified," McDougall says. "We should probably get going in a week" with more flight tests.
The top challenge is that the process of certifying an electric-powered passenger aircraft is "not mapped out", McDougall says. "It can change as we go along. The goalposts could keep changing on us."
On 10 December, Harbour Air completed the Magni500-powered Beaver's first flight, which the airline called the first flight of an all-electric-powered commercial aircraft.
With McDougall at the controls, the seaplane lifted off the Fraser River near Vancouver and flew for about 8min. McDougall calls the flight a technical success proving the capability of the 750hp (559kW) Magni500.
The propulsion system had "more torque and power" than expected, he says.
"The Magni500 propulsion system performed above and beyond our expectations. We are thrilled with its success," says Magnix CEO Roei Ganzarski.
Magnix has logged about 500h of Magni500 testing and expects to complete thousands of test hours prior to certification.
The demonstrator Beaver carried 135Wh/kg lithium batteries – a relatively low-density battery that, while close to aviation standard, generally lacks sufficient power-density for viable commercial operations, McDougall says.
Today's better lithium batteries generate up to 235Wh/kg, but McDougall expects 400Wh/kg batteries will be available by the time Harbour starts passenger flights.
Harbour expects to deploy its electric aircraft on passenger flights of about 30min, with 30min of power reserve – sufficient for many of its routes from Vancouver to small communities.
The Beaver programme is progressing alongside a separate effort by Magnix to develop and certificate the Magni500-powered Caravan 208B. US flight testing company AeroTec is helping Magnix with that effort.