While the coronavirus pandemic thwarted an ambition to sell a first Airlander 10 earlier this year, developer Hybrid Air Vehicles (HAV) is using the downturn to promote the giant aircraft's potential in the regional air transport role.
Having previously unveiled a VIP-configured cabin demonstrator suitable for "airborne cruise" applications, HAV last November announced that it was in contract negotiations linked to a four-unit launch order, which it valued at $200 million.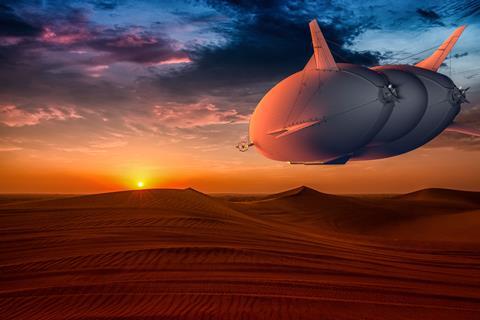 In all, the UK company said it had received letters of intent for a combined 15 aircraft, from "organisations in the tourism and clean technology sectors".
"We were looking for the first contract in the second quarter," says chief executive Tom Grundy, who unsurprisingly notes that HAV has seen a "temporary pause" in leisure-sector business opportunities.
Instead, the Airlander 10's potential as a low-carbon travel option has come to the fore, along with its ability to offer more social distancing for passengers than experienced aboard a conventional airliner.
Grundy says an air transport-optimised cabin would have a weight limit sufficient to accommodate 90 passengers. But with this to be comparable in length and wider than an Airbus A320 fuselage, he says "There will be plenty of space".
"We're used to thinking that all aircraft look alike, [but] it won't feel like getting on an aeroplane," he notes.
HAV is promoting what it calls a "fast ferry" concept, where the Airlander could serve as a point-to-point "city connector" for sectors of 135-405nm (250-750km).
Examples could include Oslo-Stockholm and Singapore-Kuala Lumpur, while he says that such a service linking Liverpool and Belfast would prove "much quicker" than travelling by car and a ferry.
Connecting the Norwegian and Swedish capitals with an Airlander would involve a roughly 6h 30min flight, but avoid the need to visit an airport, as the type can land on water. But Grundy says the environmental impact of such a journey would be markedly lower, with a claimed 4.5kg (10lb) of carbon dioxide emissions per passenger, versus over 64kg for a comparable trip by airliner.
HAV says that even with the four kerosene engines used by its prototype Airlander it demonstrated a 75% reduction in fuel burn against a conventional large aircraft. But it has already plotted a path through hybrid propulsion to offering a fully emission-free product within a decade.
The company is working with Collins Aerospace and the University of Nottingham to develop a 500kW electric propulsor, via an activity named E-HAV1. A full-scale prototype powerplant will undergo bench testing from next year.
HAV's product evolution should involve delivering initial production Airlander 10s powered by kerosene motors, before replacing the forward pair of engines with electric units and also adding a hydrogen fuel cell from 2025.
"We will show that cutting 90% of emissions is a viable thing," Grundy says of the hybrid version. Describing fuel cells as "the sensible solution from the start, due to volumetrics," he adds that HAV "will be a trailblazer" by working to incorporate the technology.
A fully electric and fuel cell model should be ready for service by 2030, the company says.
Meanwhile, Grundy notes that the 500kW motors being developed for the Airlander 10 could be adapted to power conventional regional aircraft.
Another potential application for the type could be in serving as a military surveillance platform – the role for which it was originally designed, to meet the US Army's subsequently axed long-endurance multi-intelligence vehicle requirement.
HAV claims that an Airlander 10 could operate for up to five days continuously while carrying a 3t sensor payload; characteristics worthy of an unmanned variant.
With the UK recently experiencing a spike in the number of migrant boats illegally crossing the English Channel from France, assets employed to monitor the activity have included Royal Air Force Beechcraft King Air 350 Shadow R1 and Boeing P-8A Poseidon MRA1 surveillance aircraft and British Army Thales UK/Elbit Systems Watchkeeper unmanned air vehicles. Why not, HAV argues, employ an adapted Airlander to provide more persistent coverage in such circumstances?
It also is partnered with Vertex Aerospace to pursue potential new opportunities with the US military.
Separately, the company in August signed up to the Telecom Infra Project, which aims to provide internet connectivity to under-served regions. It believes that its aircraft could be an ideal platform to carry communications equipment where there is a lack of terrestrial infrastructure, or during major events or in the aftermath of natural disasters.
In advance of signing its first contract, HAV has given much thought to the likely concept of operations and support requirements, and recently signed a pact with the UK's 2Excel Aviation.
"2Excel will work with HAV to develop efficient operations for Airlander's early adopters in mobility, travel, logistics, and surveillance and communications roles," the companies say.
Grundy also notes that HAV has "been though a lot of conversations" with the UK Civil Aviation Authority, European Union Aviation Safety Agency and US Federal Aviation Administration "regarding the overall certification" process.
The redesigned Airlander 10 is expected to make its debut flight in 2023, with HAV eyeing a production ramp up in the 2025-2027 period. Grundy says manufacturing will be scaled to deliver 12 examples per year, with a production site yet to be selected. The company left its original Cardington airfield home in Bedfordshire in 2017, following the completion of prototype flight testing.
Far from being discouraged by the current aviation downturn, Grundy still sees a potential market for 600 Airlanders over the life of the programme. He is keen for the first buyer to be a UK operator, so that work can begin to support the domestic supply chain.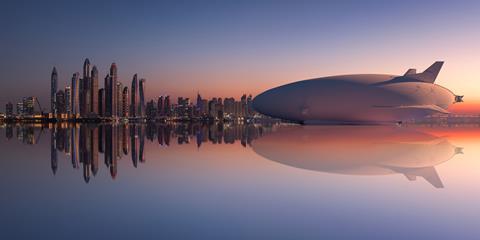 "Covid delayed investors, but we are working hard to get that investment in, and seeking those partners who are going to come on that journey with us and get Airlander into service in 2025," he says. A recent crowdfunding drive secured around £1.9 million ($2.4 million) from 1,600 new backers, enabling the company to bridge the gap to a production launch.
A larger Airlander 50, with a 50t payload capacity, is still on the horizon, with HAV eyeing the outsize cargo and remote region logistics sectors as holding strong potential from 2033.
With the design capable of carrying six shipping containers, "There are a lot of parts of the world that Airlander can open up, as well as going point-to-point," Grundy notes.
He points out that global trade relies on "cheap and slow" goods delivery by sea, or "fast and expensive" by aircraft. "Airlander 50 sits right in the gap."
Operational disruption affecting some of the company's roughly 65 staff since March has included some being furloughed – a mechanism that Grundy says was "very helpful" at the peak of the crisis.
"We've kept going," he says. "We have made sure that we are coming out of our flight-test programme looking to leverage every bit of data." The company also has been working to mature relationships with potential future customers, he adds.
With HAV having spent in the region of £120 million over a 13-year period, Grundy is convinced that the giant airship has a bright future. "We are ready to go now," he says.
"It will be a huge success story to deliver 12 aircraft per year – and carbon-free."