Heart Aerospace has flown a one-fifth-scale demonstrator of its ES-19 electric aircraft as the developer seeks early validation of the design.
Performed on 17 December from its Save airport site near Gothenburg, Sweden, the sortie lasted 4m 30s and achieved a maximum speed of 80kt (150km/h).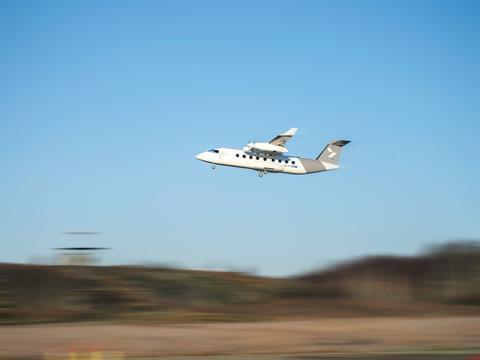 Measuring 3.5m (11.4ft) long and with a 4.6m wingspan, the scale model used off-the-shelf batteries and electric motors and was constructed from carbonfibre and fibreglass by fellow Swedish firm North Sea Drones. The production ES-19 aircraft will be made from aluminium, however.
"The most dramatic thing about the test flight was how undramatic it was," says Anders Forslund, founder and chief executive of Heart.
"The nice thing about going for this conventional architecture is that it flew so well out of the box.
"We're not looking to reinvent the wheel. A lot of start-ups are presenting very novel aircraft architectures, spending several years in subscale testing just to demonstrate the basic functionality of the aircraft. We've avoided these pitfalls by relying on a conventional aircraft architecture."
The ES-19 is a high-wing, T-tail design, featuring four wing-mounted electric motors drawing power from batteries housed in the nacelles.
Forslund says the scale model forms part of a wider verification strategy that also includes ground-testing of its electric powertrain and other sub-systems, evaluations of battery performance, plus windtunnel trials of the ES-19 that will begin in 2022.
Heart hopes to perform the first flight of its full-scale ES-19 in 2024, leading to certification and service entry two years later.
Swedish innovation agency Vinnova contributed funding towards the scale model as part of its Elise - Electric Aviation in Sweden – project. Forslund says the model will be used for additional testing as the ES-19 programme progresses.