The coronavirus pandemic has cast a shadow over the aerospace industry in 2020, but the boss of Honeywell's new Urban Air Mobility (UAM) and Unmanned Aerial Systems (UAS) unit says there is still a great deal of action in aerospace's frontier sector.
In June Honeywell announced that it would set up a one-stop shop to support the development of both UAM and unmanned systems. The Phoenix-based unit ties together the broad range of Honeywell's capabilities such as avionics, propulsion systems, technology, software and services.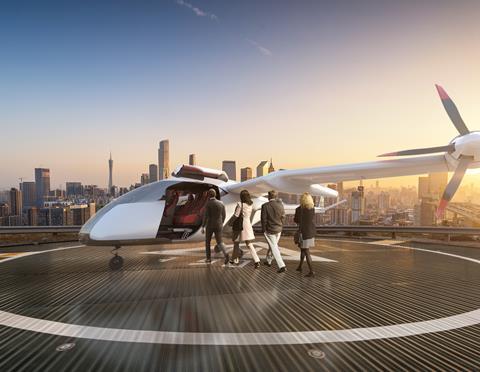 Emphasising the importance Honeywell places on UAS and UAM, the unit's vice president, Stéphane Fymat, reports directly to the president of Honeywell's Aerospace division.
Fymat says that prior to the June announcement the various business areas within Honeywell were already "in formation" in regard to UAM. Subsequent to the unit's establishment, a team has been built up with focus areas such as engineering, programme management, sales, and the business development strategy.
"Urban Air Mobility, cargo UAVs, delivery drones, are cross cutting things," says Fymat. "It's not just avionics, it's not just electric propulsion, it's not just cooling systems for the batteries. It takes a dedicated focus to create the vision for where this industry is going to go, drive the vision, and work with all the new innovators that are coming up that are may not be traditional aerospace companies."
To simplify things, Fymat breaks down how Honeywell can assist UAM and UAS developers into two broad areas, which he generalises as avionics and propulsion.
On the avionics side, Honeywell offers vehicle management systems, fly-by-wire technology, electric actuation, sensors, and communications. As for propulsion, Honeywell has experience with electric motors, motor controllers, and the cooling system. Cooling, he says, is critical for battery-powered aircraft, especially during the recharging process.
One milestone this year was the establishment of an avionics lab for UAM and UAS in September. The facility allows for the real world testing of fly-by-wire controls and vehicle avionics in a lab setting.
Honeywell's fly-by-wire technology is already set to be employed in Vertical Aerospace's developmental VA-1X, an electric vertical take-off-and-landing aircraft that can carry one pilot and four passengers. Honeywell is a strategic partner in the programme, and will also supply the aircraft's flightdeck technology including multi-touch displays, avionics system controls, avionics software and the vehicle operating system.
From Fymat's perspective, the UAM and UAS spaces have been relatively unfazed by coronavirus. Still, it has wrought some changes. UAM firms that received funding prior to the pandemic are forging ahead strongly, but investors have tightened the purse strings amid the crisis. This has affected some of the newer firms in the business. In addition, the major aerospace players have backed off somewhat.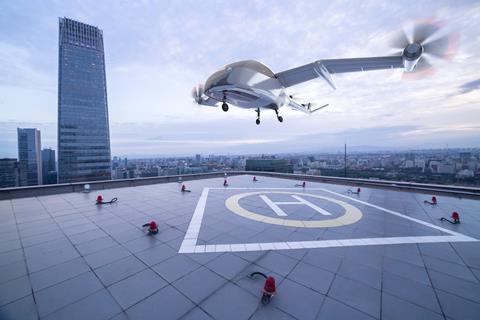 One area where coronavirus has had a positive impact is with delivery drones. Although the technology is far from widespread, Honeywell observed a significant jump in drone deliveries during the early days of pandemic.
"This has stimulated the idea that autonomous delivery is actually a very COVID-friendly thing to do," says Fymat.
In the UAM space, Fymat admits that autonomous UAMs could be some time away, but nonetheless expects that the first wave of urban air taxis will enter service in the 2023-2025 timeframe. These, however, will be certificated aircraft with a human pilot.
Eventually, UAMs will require an operator who is not a fully qualified pilot. Subsequent to this, fully automated UAMs controlled from the ground could start entering service. On the other hand, Cargo UAVs will be autonomous from day one. Fymat notes that defence forces have already done extensive work in this field.
In regard to the eventual layout of future UAMs, Fymat sees two clear trends. UAM's designed to carry two people or a similar weight in cargo within a city are likely to have a series of rotors, similar to a helicopter. UAMs that are travelling longer distances will likely rely on wings, with rotors tilting to allow vertical take-offs and landings.
Winged UAMs will be able to operate between city pairs such as Singapore and Kuala Lumpur. Leisure applications could include UAM flights from New York City to Block Island or Martha's Vineyard, which can be time consuming to reach. Initially, however, he expects UAM adoption to occur in cities where helicopters already play a critical transport role, such as in Sao Paolo, Brazil.
In regard to regulation, Fymat says governments are trying to find a balance between safety and over-regulation, but that generally they are very engaged with the idea of UAM.
"They are absolutely engaged in this - and that's great," he says. "The worst thing you could have is no engagement."
A greater limitation will be the spaces available for landing. Existing airports and heliports are insufficient for the UAM sector to really flourish. Once regulatory and infrastructure questions are resolved, Fymat believes the sector can really scale up.
"[The new unit] is on a long term mission to make urban air mobility happen," adds Fymat. "Like anything, if you put your mind to it with a single minded focus…it tends to get done.

Greg Waldron is the Asia Managing Editor of FlightGlobal, responsible for the team's airline, aerospace, and defence coverage across the region. He has worked at the company since 2009. In the airline space, Waldron has conducted dozens of interviews with airline leaders in the Asia-Pacific. He also covers areas such as MRO and safety. On the defence beat, Waldron has written extensively about the rise of Chinese airpower, as well as broader airpower developments around the region, such as indigenous fighter programmes, and regional acquisitions of foreign equipment. In addition, Waldron writes about commercial helicopters in the region and business aviation. Waldron worked has a freelance journalist with his work appearing in several business publications.