Honeywell Aerospace is confident that an EU-funded consortium it is leading can deliver a "commercially viable" high-power fuel cell powertrain for regional aircraft applications.
Ground tests of the entire 1MW propulsion system – including an electric motor – will be performed in 2026 under the Clean Aviation-backed Newborn project.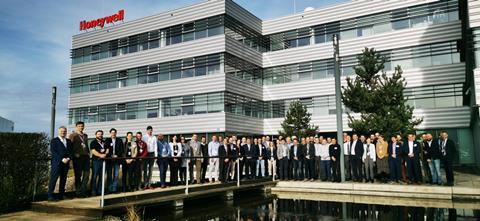 Although the system will only be taken to technology readiness level (TRL) 4 – or TRL5 for most components – Ondrej Kotaba, principal scientist at Honeywell Aerospace, insists the programme is focussed on eventual commercial applications.
"The important thing is that we are not designing a demonstrator – we are focusing on designing a system that is actually viable in terms of application on aircraft," he says.
Kotaba says Honeywell has for several years been working with consortium member Pipistrel Vertical Solutions – part of Textron since April last year – "to really understand the parameters of a system that would make it economically viable".
Pipistrel's involvement stretches beyond shaping the overall requirements, also encompassing the powertrain's batteries and system engineering work. But in future, it may play another vital role, says Kotaba: "The ambition is to fly the system in the next phase of Clean Aviation and an option – not confirmed – is to fly it aboard [one of] Pipistrel's aircraft."
While the airframer's involvement is obviously eye-catching, other suppliers to the project also bring best-in-class solutions, he says: "We have chosen whoever provides what we feel is the best way forward."
For example, Spanish tier one aerostructures firm Aciturri is building the system's cryogenic hydrogen storage tank.
Currently such components "are relatively risky with many failure modes", says Kotaba, but Aciturri has developed a "perfect technology that is completely dissimilar to what would be used today. We believe that it solves most, if not all, of the challenges with today's cryo-tanks."
Other project partners include Sweden's PowerCell, which is providing aviation-optimised fuel cell stacks, and Germany's Fraunhofer Institute, supplying high-power-density electrical systems.
Additionally, the consortium includes two members from the UK: the University of Nottingham will deliver a high-power-density electric motor, and Reaction Engines its heat-exchanger technology.
Reaction has previously been selected by the UK's Cranfield Aerospace Solutions to supply similar technology for its conversion of a Britten-Norman Islander to run on fuel cell power.
The decision to use liquid rather than gaseous hydrogen was driven by the former's better volumetric energy density. Although such a system adds complexity due to the need for cryogenic storage, these are outweighed by better payload and range characteristics and also the potential to use the liquid hydrogen – stored at -253°C (-423°F) – as "a heat sink", says Kotaba.
However, he declines to provide further details on the cooling potential of the cryogenic hydrogen, such as whether that could enable the use of superconductive materials in the electrical distribution system.
Although the test system being developed by the Newborn project is sized to provide 1MW of take-off power, it is designed to be "scalable", potentially delivering "up to two times four megawatts – so the requirements for a regional aircraft", says Kotaba.
The proposed architecture also incorporates batteries as an "energy buffer", providing a power boost at moments of peak demand such as take-off, allowing the optimisation of the fuel cell system for the majority of flight phases.
Kotaba says the project opted to test the entire powertrain to ensure the discovery of "any kinks in the system" or "any integration issues between the subsystems".
He says only minimal modifications would be required to integrate it into an aircraft.
A raft of other firms – both start-ups and established aerospace suppliers – are also developing fuel cell systems, but Kotaba is adamant the Newborn effort will deliver a product that is not already available elsewhere.
"We believe that we are designing the system that meets the KPIs for commercial implementation.
"I don't want to comment on other systems – we believe that what we are putting together is the right way forward. Today's technology – whatever is available right now is not fit for the purpose and we are specially designing the key components to make that happen," he says.
Newborn was one of 20 projects selected in September 2022 for funding under Clean Aviation's first phase. Honeywell says that less than half of the initiative's €100 million ($107 million) cost is being provided by Clean Aviation and the UK's Research & Innovation body.
Led by Honeywell's Brno, Czech Republic-based unit, the consortium comprises 18 partners from 10 different European countries.

Dominic Perry is deputy editor of Flight International but also contributes extensively to flightglobal.com. Although specialising in the coverage of the helicopter industry, he has written on most topics in aerospace – be they commercial, defence or business aviation. In addition, there has been an increasing focus on the decarbonisation of the industry and zero-emission flight initiatives.
View full Profile