Honeywell's airline support business has observed significant changes among its Asia-Pacific customers as the effects of the coronavirus pandemic ripple through the industry.
One major change relates to spare parts, with airlines electing to keep parts 'on wing' for longer, and showing greater openness to relying on used parts.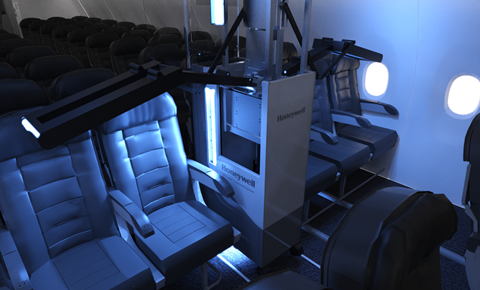 "Due to the covid-19, I think their mindset is changing in terms of buying behaviours," says Andrew Wong, vice president of airlines Asia-Pacific at Honeywell.
"There's really a paradigm shift…in the past you'll see a lot of airlines looking at buying new spares, but right now everybody's looking at their budget in a really tight way. They have a very stringent control of the budget and how they spend money."
One impact of this is greater use of the company's GoDirect Trade platform, an on-line marketplace where companies can trade aircraft parts. Honeywell is also observing a greater interest among airlines for using pooling programmes for parts.
Wong readily admits the profound impact covid-19 has had on the airline industry, and that this has impacted Honeywell. He notes, however, that the domestic traffic recovery in China is encouraging.
"What we really like to do is focus on how we can help airlines during this difficult time," he says. "We have a lot of engagement with executives to understand their needs and at the same time see how we can bring that confidence for travellers to fly."
Wong says one item that has attracted considerable interest is Honeywell's UV Cabin System, a portable device resembling a beverage cart that uses ultraviolet-c (UVC) light shining from extendable arms to kill germs on airplane cabin surfaces. The company says that the system can clear an "entire mid-sized airline cabin in less than 10 minutes."
Derived from UVC systems used in hospitals, the system can be rolled on and off all major aircraft types.
"We have a lot of interest right now and we are doing a lot of demonstrations with the airlines across the region," says Wong.
Arguably, cash is an even greater concern for airline bosses than hygiene. Honeywell has observed carriers delaying some non-critical projects, in addition to reducing network costs by retiring portions of their fleets.
"What really interests both parties is how do we take action to address costs and take a pragmatic approach to maintenance in terms of preserving their cash? On this front we are really working together to help them find solutions."