Honeywell sees working with local industry as key to broadening the number of aerospace programmes that use its systems.
Speaking at the Paris air show, John Guasto, vice president international at Honeywell Aerospace Defense and Space, lists several high profile international aircraft that use Honeywell's systems. These include engines, life support, environmental control systems, communications systems, navigation systems, and others.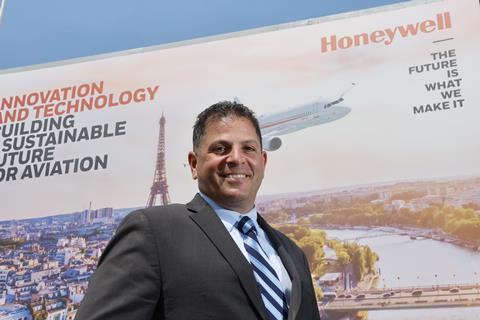 The company notched up more potential business at the show, with a joint venture company, International Turbine Engine Company, entering a memorandum of understanding with UK firm Aeralis to integrate the H124 engine into the company's new advanced jet trainer.
"We're really excited about that," says Guasto. "One of the big focus areas to grow our business is with global OEMs around the world who are trying to create platforms organically."
International military aircraft with significant Honeywell content include the Leonardo M-346 (engines and other systems), Turkish Aerospace Industries Hurjet, and Hindustan Aeronautics HTT-40.
A more recent Honeywell offering is the JetWave MCX satellite communications system, which provides broadband data capabilities for militaries. The system is installed on Honeywell's Boeing 757-200 flying testbed. Honeywell is hosting flights with potential customers to demonstrate JetWave MCX's resistance to jamming.
Guasto feels that customers see Honeywell not as an American company, but as an international entity.
"We are truly a global company," he says. "When we say we're going to partner locally, we create a local manufacturing capability, local engineering capability, and we do co-development. That really differentiates us in the market."
Local repair capabilities are essential so that customers can shorten logistics timings and improve readiness.
Foreign customers, however, often require a degree of technology transfer. This can create a dilemma for manufacturers who want to preserve their intellectual property.
To this concern, Guasto says that companies can protect their intellectual property, but that overseas companies will figure it out on their own eventually. He says that the key to competing is constantly innovating, producing products that customers want.
"Our focus has really been around research & development, to make sure that we have the most cutting edge products to make sure that we're winning content on these new [OEM] platforms."
He adds that by partnering locally Honeywell gains the ability to conduct R&D globally, thus helping innovation.