In a non-descript beige building that takes up most of a few city blocks on the northern outskirts of Phoenix, Honeywell Aerospace is building the future of aviation.
The company's new advanced air mobility (AAM) lab near the Dear Valley airport showcases its capabilities across avionics, propulsion systems, technology, software and services, and how these are being tailored for a wave of soon-to-be-certified aircraft.
"We're building the brains and muscles of advanced air mobility, the critical systems that make these things fly safe," says Jia Xu, the recently-appointed chief technology officer of Honeywell's Urban Air Mobility (UAM) and Unmanned Aerial Systems (UAS) unit. "We don't build the airplanes themselves, but we build all the stuff to help make them fly."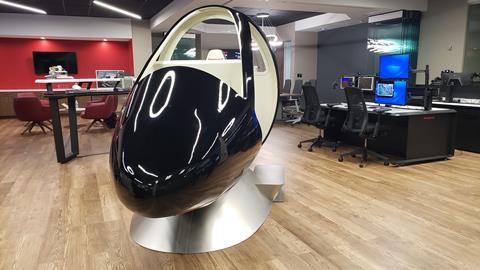 Set up in 2020, the lab centralises Honeywell's various UAM and UAS work for the purpose of developing and testing fly-by-wire controls and vehicle avionics.
The group has about 40 employees, Xu says, but relies on the wider company's engineering expertise to address the increasingly complex needs of aircraft manufacturers.
Honeywell has said it is working with air taxi developers Lilium and Vertical Aerospace on avionics and flight control systems for their urban air mobility concepts, and collaborating with Pipistrel, recently acquired by Textron Aviation, on the flight control and satellite communication and sensor systems for that company's in-development heavy-weight cargo drone.
"What's really interesting in the Pipistrel case is that's kind of the key component of the autonomy suite of the aircraft," Xu says.
Pipistrel's hybrid-electric aircraft, called the Nuuva V300, is a long-range, large-capacity autonomous vertical take-off and landing (VTOL) drone for logistics and aerial cargo delivery. It is slated to be able to carry at least 460kg (1,000lb) and have range up to 162nm (300km).
Xu adds that his unit is pursuing more deals in both the passenger and cargo delivery drone segments, but he does not name names. Hyundai, Beta Technologies, Joby Aviation, Embraer, Archer Aviation, Elroy Air, WingCopter and Amazon could be candidates, though.
"We are working with many of the companies that are in the certification process for their aircraft," he says. "We expect some of the air taxi vehicles and cargo vehicles to come to the market in the next two to five years."
"And whoever we talk to, they tell us that our technology is the game-changer," he adds.
Honeywell's fly-by-wire technology is already set to be used in Vertical Aerospace's developmental VA-X4, an electric VTOL designed to carry one pilot and four passengers. As a strategic partner of that programme, Honeywell will also supply the aircraft's flight deck technologies, including its multi-touch displays, avionics system controls, avionics software and vehicle operating system.
One of the highlights in the AAM lab is the company's simplified vehicle operations (SVO) avionics suite, built upon Honeywell's new, lighter and more intuitive "Anthem" flight deck, which it unveiled last October.
The company has said Anthem significantly advances the state of avionics connectivity and autonomy, potentially one day allowing for fewer pilots in the cockpit. Both Lilium and Vertical Aerospace are Anthem customers.
"With the simplified vehicle operations (SVO) avionics… we are trying to re-imagine the human-machine interface, both at the visual-interface level with the avionics as well as the underlying fly-by-wire system. Basically, we're trying to simplify the act of flying an air taxi significantly." That could ease training requirements for future pilots, who may not even need pilot certificates to operate such aircraft.
Xu says Honeywell is currently testing the system with pilots and non-pilots, and with UAM customers.
The company is "seeing a lot of market traction" in its fly-by wire technology, and by simplifying the process "we are already paving the way for autonomous flight" of passenger-carrying vehicles, he adds.
"We spend a lot of time thinking: how do you make sure that that fly-by-wire system can trust all of the sensory inputs and actuator inputs? If there's something that fails, the fly-by-wire [needs] to smartly reallocate power to be able to deal with the failure," he says. "This kind of technology is on commercial aircraft and military aircraft and now we're taking it into this space."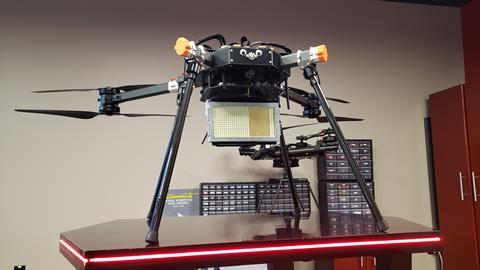 The company also recently successfully tested a small detect-and avoid radar system, called RDR-84K, that could help autonomous UAM become mainstream.
"The radar-equipped drone used that radar to detect, track and then figure out the optimal avoidance trajectory against an intruder drone. This allows so-called beyond-visual-line-of-sight drones to be able to operate safely," he says. "Today, if I want to fly one of these things in the US, in most cases, I need someone observing the drone while it's flying. So that's not very scalable, it also doesn't allow the drone to cover enough space, which its batteries would otherwise allow it to," he adds.
"We've demonstrated our detect-and-avoid technology [can] unlock the economic potential for delivery drones, inspection drones and other commercial drone use cases."
Honeywell is also partnering with Japanese automotive supplier Denso to develop an electrical propulsion unit prototype that it expects to ground test this year and flight test next year. That collaboration is essential to help figure out how to scale the business.
The AAM space is huge, says Xu, with limitless possibilities to develop systems that would allow aircraft to fly within the established air transport system. But though the focus is currently on the futuristic air taxi and aerial cargo markets, conventional aircraft may also be able to operate more efficiently and, perhaps someday, with alternate means of propulsion and navigation, as a result of this kind of research.
"Not only is this a burgeoning and emerging market, opening up entirely new use cases and segments within aviation, but a lot of the technology that this particular market is driving us to develop right now… is all useful across aviation," Xu says. Examples include fly-by-wire systems, detect-and-avoid autonomy, miniature satellite communication systems and, critically, the integration of those technologies.
"UAM is not only a key market itself, but it is a vital sandbox [to] develop the technology that will power the future of aviation," Xu says.

Pilar Wolfsteller, Americas Air Transport Editor, is based in Las Vegas and brings a pilot's perspective to her beat. She covers airlines across the hemisphere and her interests also include future-oriented sustainable aviation technology and urban air mobility projects. Pilar began her journalism career at the global news agencies Bloomberg and Reuters, and has reported from more than 50 countries.