Amid a blizzard of desperately contrived acronyms – Cavendish, Newborn, Ofelia to name but three – the EU's Clean Aviation programme on 27 September revealed the 20 research projects selected as part of the initiative's first phase.
Designed to spearhead aviation's drive to decarbonisation, the 20 projects will share €736 million ($718 million) in European funding.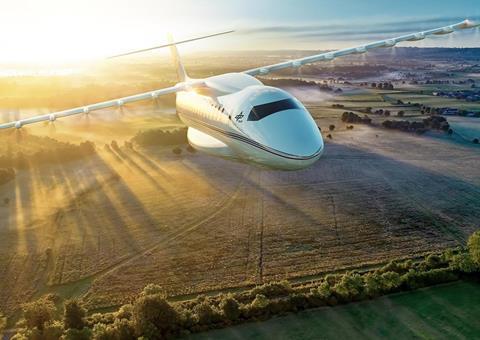 These include research into multi-MW-class electric powertrains, hydrogen combustion, hydrogen fuel cells, and ultra-efficient wing and fuselage designs for future regional and short- and medium-range aircraft.
For reference, Clean Aviation sees regional aircraft as those with range of around 540nm (1,000km) and capacity of 100 seats, typically flown on sectors of 215-270nm. Short- and medium-range aircraft, meanwhile, are those covering the space from 540-2,000nm and accommodate up to 250 passengers.
The successor to the EU's Clean Sky programmes, Clean Aviation has a total budget of €4 billion, including industry contributions, and lofty goals: "Making the Europe the world's first climate-neutral continent by 2050 is our top priority," according to Rosalinde van der Vlies of the European Commission.
In practical terms, this means maturing low-emission technologies to support an end-decade launch of a new generation of aircraft for regional and short- and medium-range applications enabling a 30% reduction in greenhouse emissions by 2035. That will then allow the industry "to create the conditions to be able to replace 75% of the existing fleet" over the 2035-2050 period with the new low-emission aircraft, says Clean Aviation's head of programmes Sebastien Dubois.
"If we manage this, and we combine it with [the] use of drop-in and no-drop-in fuel, in addition to market-based measures and operational improvements, we will be close to net-zero by 2050," he says.
Clean Aviation's target is for its selected research projects to reach technology readiness level (TRL) 4 or 5 by the end of the first phase in mid-2026, leading to TRL6 by 2030 and their application on a new generation of aircraft from the middle of the decade.
Dubois sees most of the phase one work taking place on the ground, likely moving to flight tests of demonstrators in the subsequent phase.
Notable exceptions will be those projects assessing the feasibility of hydrogen combustion in turbofan engines where manufacturers have already committed to flight test the technology.
GE Avio and Rolls-Royce were both selected for phase one funding for their respective Hydea and Cavendish projects, which will tap into research initiatives that have previously been announced: in the former case, that means work being undertaken by the CFM International joint venture between GE Aviation and Safran, which earlier this year said it would work with Airbus to test a hydrogen-burning GE Passport business jet engine aboard an A380 flying testbed. Rolls-Royce too is studying the potential of flight testing a Pearl business jet engine running on hydrogen.
Those two projects are not the only ones where investment from Clean Aviation is being used to accelerate existing research and development activity. For example, under the ultra-efficient short and medium aircraft topic, Safran, MTU and Rolls-Royce have all secured funding that builds on work taking place under their respective RISE, water-enhanced turbofan (WET), and UltraFan technology demonstration programmes.
Intriguingly, the MTU-led Switch consortium which is examining the potential for the steam-injection WET engine also includes Airbus and long-term partner Pratt & Whitney, says Dubois.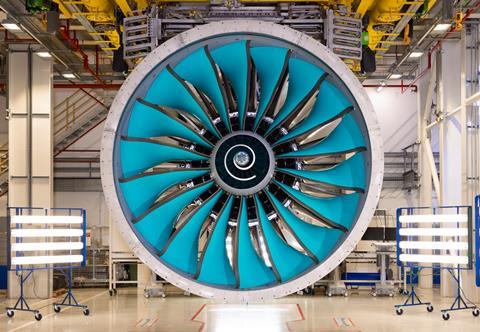 He points out that the allocation of funding to multiple projects looking at the same broad topic – two consortia have also been selected to developed multi-MW-class hybrid-electric powertrains, for example – is entirely rational when such disruptive – and unproven - technologies are being examined.
"The reason is to reduce the level of risk… and to ensure at least one solution emerges on time in 2035 to offer a solution to the market, or potentially more than one," he says.
Eyebrows may be raised, however, by the selection of projects proposed by both Rolls-Royce's German and UK businesses. Although the presence of the former in an EU-funded programme is unsurprising, the tense relations between London and Brussels post-Brexit could have ruled out the inclusion of the Derby-headquartered business.
Although the UK has yet to agree participation in the Clean Aviation programme due to wider Brexit issues, the London government has agreed to fund the involvement of the UK companies selected for phase one, providing a total of £80 million.
Besides, there are other recipients of phase-one funding – Collins Aerospace and Honeywell Aerospace, for example – who, despite a European presence, are headquartered elsewhere.
Dubois says this approach will allow the development of European capabilities for future exploitation within the region, while benefiting from knowledge or skills that may be located elsewhere.
It will also help to meet the eye-watering cost of achieving net-zero aviation, he argues: Clean Aviation estimates a total funding requirement of €12 billion to meet its objectives, he says.
"Only one-third of that will come from Clean Aviation, the rest will come from other national and regional initiatives," he says.
Clean Aviation received 25 applications addressing its first call for proposals, issued in March, aimed across 14 topics; of those, 20, involving 300 different businesses, were successful.
A second call for proposals under phase one, with a budget of close to €150 million, will follow in early 2023, says Dubois; factoring in the UK's contribution, that takes the phase one budget to around €900 million, a figure that will be more than matched by industry , to reach a total budget of about €2 billion.
Submissions will be requested in 2025 for second-phase projects running over the 2026-2030 period and bidding for a share of around €900 million.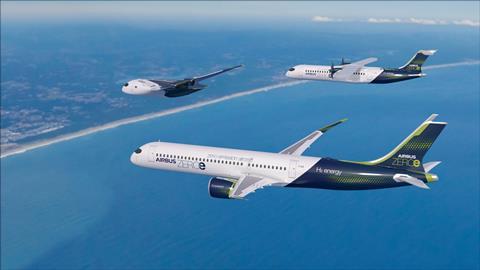 Although each project is attempting to mature a specific technology, Clean Aviation is cognisant that on an aircraft each system does not operate in isolation and, in combination, they may achieve an effect greater than the sum of their parts.
With that in mind, Clean Aviation is already working to combine those individual technologies or systems into concept aircraft studies with the aim of down-selecting a limited number of aircraft concepts – likely three to four – in the second phase for further maturation, says Dubois.
"That is what we are already starting right now – to link and associate the projects in their respective domains in order to contribute to the emergence of the future aircraft concept targeted at the end of that first phase."
Work on the concepts is expected to begin in January at the latest and "after six months we expect to have a clear plan in terms of linkage of the projects together and to start to see emerging from month six to month 18 the first aircraft concepts," he says.
A big difference between Clean Aviation and its predecessor programmes is its focus. Clean Sky 1 and 2 were broader in scope, incorporating rotorcraft and small aircraft at one end, and technologies for long-haul aircraft at the other.
But in order for the industry to reach its ambitious decarbonisation targets, Clean Aviation has had to target its resources where they will have the biggest impact: on regional and short- and medium-haul operations, those responsible for around two-thirds of aviation's greenhouse emissions.
"This is why we have narrowed the scope and not included business jets or rotorcraft," he says. Although Pipistrel has won phase one funding for research activities on certain CS-23-category aircraft – those below 19-seats – that is because "these are considered as stepping stones on our journey towards, for example, fuel cell powertrains".
Once such systems have been demonstrated on smaller aircraft and their safety and integration issues fully addressed, they can then be scaled up to larger aircraft, Dubois says.
For long-haul, the operational limitations of such aircraft – their size, weight and the distances they fly - mean that technologies like hydrogen or hybrid-electric power are "not a viable route", he adds. And although improvements to gas turbine efficiency, for example, derived from Clean Aviation-backed projects "will be fully applicable to that kind of market", that is "not [their] primary objective", says Dubois.

Dominic Perry is deputy editor of Flight International but also contributes extensively to flightglobal.com. Although specialising in the coverage of the helicopter industry, he has written on most topics in aerospace – be they commercial, defence or business aviation. In addition, there has been an increasing focus on the decarbonisation of the industry and zero-emission flight initiatives.
View full Profile