Hybrid Air Vehicles (HAV), the designer of the Airlander 10 hybrid airship, is to seek a US public listing backed by a $200 million stake from investment firm Global Emerging Markets (GEM).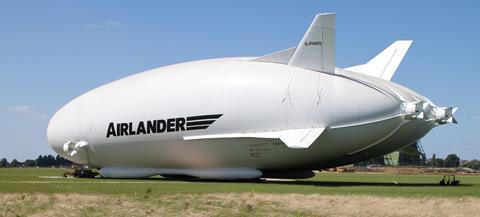 It is a significant breakthrough for the UK start-up which has yet to announce a launch customer for a product that has been more than 10 years in development.
Under the agreement, GEM will provide HAV with a "share subscription facility" following a listing of HAV's common stock. It will allow the manufacturer to offer lease and charter options for the 92m-long aircraft.
The Bedford-based company says the deal means customers will be able to "access" the Airlander 10 without having to purchase it, something it says is particularly important in the "ultra-low emissions mobility and experiential travel" markets.
"This capital will allow us to hold aircraft on our balance sheet to deliver more options to our customers," says Hwfa Gwyn, HAV's chief financial officer. "It also solidifies our commitment to a public listing in the US either via a traditional [initial public offering] or a SPAC merger."
SPACs, or special purpose acquisition companies, are "shell" ventures backed by high-profile individuals that complete a public listing with the objective of buying existing companies, usually in emerging technology sectors.
HAV is pitching the Airlander 10 – based on a concept designed for a subsequently cancelled US military programme – to sectors ranging from high-end tourism and city-to-city transport to cargo, surveillance and other special operations.
After undergoing a series of flights with a prototype in 2016 and 2017, HAV has said it wants to be building production examples next year, with a target for a maiden flight by the end of 2023. It claims to have secured deposits from two unnamed customers and is aiming for certification and entry to service in 2025.