California-based start-up HyPoint is confident that its new high-power hydrogen fuel cell system will enter commercial service on a fixed-wing aircraft by 2023, with further applications to follow in the coming years.
HyPoint on 2 March revealed the first operable prototype of its turbo air-cooled hydrogen fuel cell system, which it claims oveercomes one of the key drawbacks of the technology.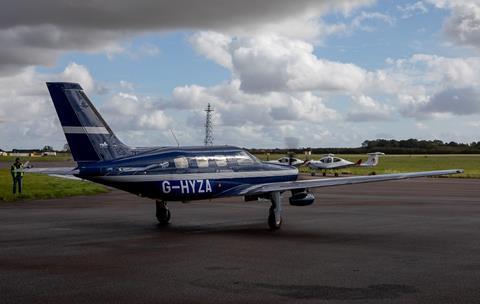 Dr Alex Ivanenko, founder and chief executive of the Palo Alto-based firm, says that while typical hydrogen fuel cells have sufficient energy density to get an aircraft off the ground, "they fall short on specific power" required for longer journeys.
But HyPoint believes that by using compressed air for both cooling and oxygen supply, its high-temperature fuel cell system will be able to achieve up to 2,000W/kg of specific power – more than triple the power-to-weight ratio of traditional hydrogen fuel cells systems – combined with energy density of 1,500W/h/kg.
In addition, by removing the requirement for liquid cooling on a traditional low-temperature system, HyPoint's technology is around three times lighter, making it suitable for smaller applications such as urban air mobility (UAM) vehicles.
Full-scale prototypes will be available "for flight next year", says Ivanenko, leading to service entry on an undisclosed fixed-wing aircraft of up to 19 seats in 2023.
In that instance, the HyPoint fuel cells and an electric motor will replace a turboprop engine in an existing airframe as a retrofit solution, he says.
That is most likely to be with ZeroAvia, which has successfully used a rival supplier's fuel cell system to power a converted Piper M350. However, ZeroAvia's founder Val Miftakhov has invested in HyPoint in a personal capacity.
His company's target is to have a hydrogen-powered 100-seat airliner flying before 2030.
"The reality is that hydrogen fuel cells are the technological driver behind e-aircraft and we are working closely with the team at HyPoint to test their systems for potential integration into future ZeroAvia aircraft," says Miftakhov.
Ivanenko says that its system is scalable to power larger aircraft; he estimates availability of such a system in the 2026-2027 timeframe.
"Right now we are discussing with a few potential partners about their projects… and powertrain requirements," he says.
Other confirmed customers for HyPoint's fuel cells are Piasecki Aircraft and Israeli firm Urban Aeronautics, both to power UAM vehicles.
HyPoint is also to begin work with the US Department of Energy's National Renewable Energy Laboratory to further test and validate the fuel cell technology.