California-based HyPoint is to work with Piasecki Aircraft to bring to market a hydrogen fuel cell system for electric vertical take-off and landing (eVTOL) applications.
The aim of a $6.5 million "collaborative development agreement" struck between the two parties is to deliver a US Federal Aviation Administration-certificated system.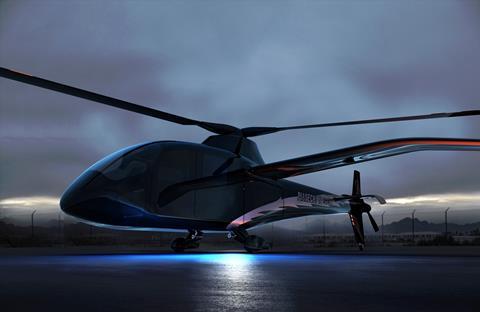 They claim their system will offer four times the energy density of existing lithium-ion batteries, and twice the specific power of alternative hydrogen fuel cell systems.
In an eVTOL aircraft this would yield a 50% reduction in direct operating costs relative to turbine-powered rotorcraft, the partners claim.
The launch application for the 650kW system will be aboard Piasecki's PA-890 compound helicopter, which is due to enter service in 2025.
"Success will pave the way for collaboration with other eVTOL manufacturers with different platform sizes to ensure broad application of this technology," says John Piasecki, chief executive of Piasecki, stressing his confidence in the system based on the results of laboratory testing conducted last winter.
"Our objective is to develop full-scale systems within two years to support on-aircraft certification testing in 2024 and fulfill customer orders for up to 325 units starting in 2025."
The five-seat PA-890 features a large three-bladed main rotor, a variable incidence wing that rotates up to 90 degrees to minimise download for efficient hovering, and swivelling tail rotor that provides anti-torque and yaw control.
As the helicopter transitions to forward flight, the wing returns to a horizontal position to provide lift and the tail rotor turns to supply forward propulsion. Rotor RPM can then be slowed, improving efficiency and cutting noise.
"The much-anticipated arrival of eVTOLs, air taxis, and similar aircraft has been severely hindered by the technical limitations of existing power systems," says Dr Alex Ivanenko, founder and chief executive of HyPoint.
"This new strategic partnership will dramatically accelerate delivery timelines by equipping eVTOL manufacturers with next-generation hydrogen fuel cell systems that meet their unique needs."