Japan engine maker IHI sees more efficient electrification of aircraft and biofuels as two areas where it can contribute to lower CO2 emissions in aviation.
One challenge it sees is creating a large-capacity electric motor generator that can handle higher power consumption requirements on future aircraft.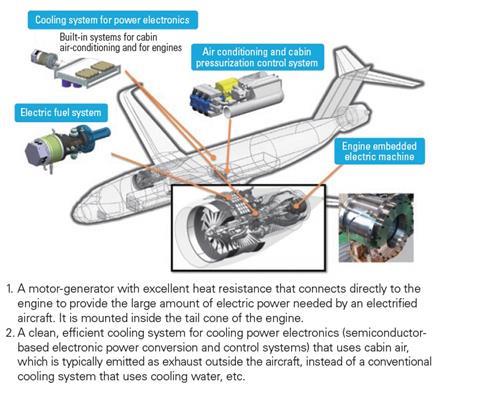 "IHI is developing an engine embedded electric machine, which achieved a rated output of 250 kW in ground tests in February 2020," says the company. "In May 2020, we completed the world's first successful evaluation test of an air cooling system for 100 kW-class power electronics."
IHI envisages mounting the motor generator directly in the tail cone, where it is cooled by cabin air that would otherwise be used as exhaust.
The company wants to link the system with the aircraft's fuel system, air conditioning, and cabin pressurisation system. The work is part of the company's More Electric Architecture for Aircraft and Propulsion project launched in 2012, which aims to yield practical applications in the 2030s.
In regard to fuel, IHI has a project exploring the stable production of biofuel suitable for jet engines using fast growing algae.
"Based on the progress of this technology development, we aim to quickly begin commercial production of bio-jet fuel. In FY2020, we plan to supply our fuel for use in the aircraft of domestic regular airline routes for commercial demonstration flights."
The company outlined the two initiatives in a corporate presentation. Overall, IHI's aero engines business generated nets sales of Y481 billion ($4.6 billion) in the FY2019 fiscal year ended 31 March 2020, or 35% of IHI's total revenue. Other major business areas include resources, infrastructure, and industrial systems.
IHI is a major player in the aircraft engine space, providing components for types such as the IAE V2500; the GE Aviation GE90, CF34, GEnx, and Passport 20; and the Pratt & Whitney PW1100G.
IHI also produces the IHI F7 high-bypass-ratio engine for the Kawasaki P-1 maritime patrol aircraft, and the experimental XF9-1 engine related to Japan's F-X fighter, which will be developed by Mitsubishi Heavy Industries.