Japan's IHI sees signs of recovery in its civil aircraft engines business, but warns about the continued impact of the coronavirus pandemic.
For the first quarter of Japan's 2021 financial year - which ends on 31 March 2022 – operating losses at IHI's Aero Engine, Space and Defense unit widened to Y69 billion ($624 million), from Y54 billion a year earlier, according to a financial statement from the industrial group.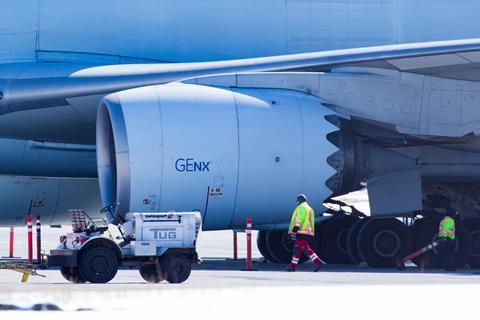 Revenues for the unit rose 3.4% to Y441 billion.
IHI says that its spare parts business was profitable for the quarter, but that this was offset by costs related to the shipment of new-build engines.
"Regarding the impact of the spread of Covid-19 [on] IHI Group's main business, the Civil aero engines business, sales of spare parts are gradually recovering along with the recovery of the demand for aero transportation on domestic routes - especially in North America where [the] vaccination program [is progressing]."
It notes that international travel is still largely moribund owing to travel restrictions, reiterating its view that the market for civilian aircraft engines is not likely to fully recovery until after Japan's 2022 financial year, which ends on 31 March 2023.
IHI's aerospace unit has workshare on a range of major commercial aircraft programmes, providing components for engines such as the IAE V2500; the GE Aviation GE90, CF34, GEnx, and Passport 20; and the Pratt & Whitney PW1100G.
IHI also produces the IHI F7 high-bypass-ratio engine for the Kawasaki P-1 maritime patrol aircraft, and the experimental XF9-1 engine related to the developmental Mitsubishi Heavy Industries F-X fighter.