Japanese firm IHI continues to see weakness in its civil aircraft engines business, and warns that a full recovery is some years away.
In the nine months ended 31 December 2020, the company's commercial engine, space and defence unit saw sales of Y157 billion ($1.5 billion), down 46.7% from the previous corresponding period.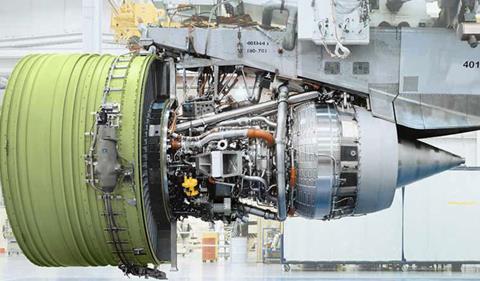 The value of orders received during the period was Y159 billion, down 14.4% from a year earlier. Japan's 2020 financial year ends on 31 March 2021.
"Although demand for aero transportation on domestic routes [had] been on a recovery trend in accordance with the resumption of economic activities in each country, there are concerns about the effects of the spread of variant of Covid-19, and the delay in the dissemination of vaccines in addition to the re-spread of Covid-19," says IHI.
IHI's aerospace unit, which has workshare on a range of major commercial aircraft programmes, is highly exposed to the fortunes of the global aerospace sector.
The company provides components for major engine types such as the IAE V2500; the GE Aviation GE90, CF34, GEnx, and Passport 20; and the Pratt & Whitney PW1100G.
IHI also produces the IHI F7 high-bypass-ratio engine for the Kawasaki P-1 maritime patrol aircraft, and the experimental XF9-1 engine related to Japan's F-X fighter, which will be developed by Mitsubishi Heavy Industries.
Its aircraft engine, space and defence business accounted for 23% of overall revenues in the nine months to 31 December 2020. Its other units, involved in areas such as industrial machinery and resources, have also been hit by the pandemic.
"For the IHI Group, in consideration of sluggish recovery of our sales of spare parts and the information from our business partners etc, the group expects that it will take several years to recover completely as a whole," it says.