Indian start-up Akasa Air has selected Air France Industries KLM Engineering & Maintenance (AFI KLM E&M) for component and APU maintenance support.
The agreement, disclosed 24 January, will cover Akasa's fleet of Boeing 737 Max 8 aircraft. AFI KLM E&M will provide flight-hour services for components, including repair and maintenance, spare parts pool, as well as logistics support.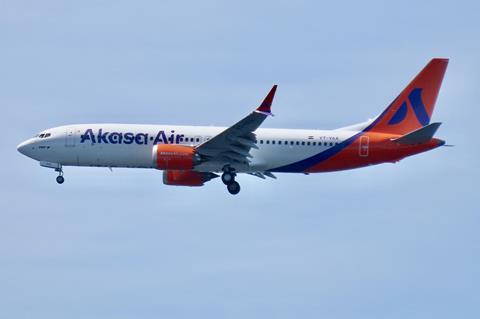 AFI KLM E&M unit EPCOR will handle APU services, providing repair and maintenance of the Honeywell GTCP131-9B APUs on the 737 Max aircraft.
Under the agreement, EPCOR will also provide replacement units, fleet management assistance, as well as engineering-as-a-service.
EPCOR commercial director Rob van de Graaf says: "The breakthrough by EPCOR in the Indian area means that the market needs alternative solutions based on an airline-MRO mindset. It showcases our APU know-how in a general sense and our expertise in the GTCP131-9B more specifically."
AFI KLM E&M adds that it had "worked closely" with the low-cost carrier in the lead-up to its launch in August 2022, stating: "AFI KLM E&M has capitalised upon its expertise in the 737 product and its Airline-MRO profile, pro-actively suggesting ways to reduce costs and develop a competitive, adapted offering aimed at optimising the total cost of ownership, and achieving a high level of operational reliability."
Akasa is India's newest carrier, operating a fleet of 737 Max 8s within the country. It most recently launched its 13th point on its domestic network, flying to Hyderabad from Bengaluru and Goa. The carrier expects to take delivery of one new 737 Max every 15 days, with its fleet size to be at 18 aircraft by end-March.