Indonesian Aerospace is upbeat about the commercial and military prospects for its 19-seater N219 turboprop.
The company sees a domestic market of 120 examples over the next ten years, according to Indar Atmoko, Indonesian Aerospace's senior executive vice president commercial.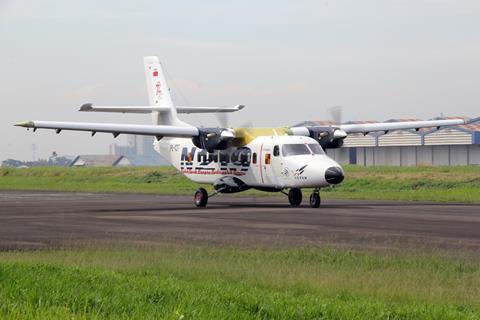 Powered by two Pratt & Whitney Canada PT6A engines, the N219 attained a local type certificate in 2020.
In June, Indonesian Aerospace – also known as PTDI - expects to sign a contract with the Indonesian Army for eight examples. It will take 20 months to produce the first aircraft, with one or two examples subsequently produced every three months.
An army commitment for the N219 was first announced in November 2022, although initially this was for 10 examples. November 2022 also saw private company Karya Logistik Indonesia commit to 11 examples.
Atmoko says that should additional orders follow the army deal, production at PTDI's Bandung factory could ramp up to 10 aircraft annually, or possibly even 12.
Atmoko spoke with FlightGlobal and the Langkawi International Maritime and Aerospace (LIMA) exhibition. At the show, Indonesian Aerospace signed up Malaysian aerospace firm Airod as its marketing and sales agent for the N219 in Malaysia.
Indonesian Aerospace also sees the N219 potentially performing surveillance missions for Indonesia's coast guard. In the maritime surveillance role the aircraft has endurance of 4h.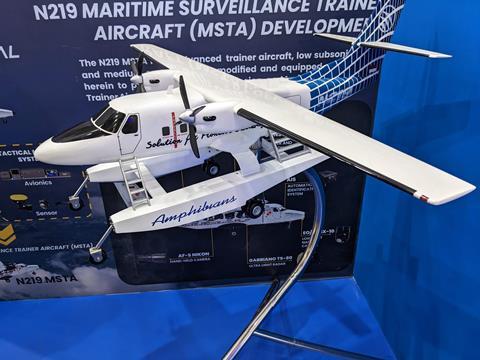 Another potential market is resources. Indonesia's government has mandated that more or processing take place domestically, creating a requirement for large, manpower intensive facilities in remote areas.
The N219, which can operate from rough air strips, is well suited to such missions, particularly since it boasts a large cargo door.
Indonesian Aerospace also intends to develop an amphibious version of the N219, a useful capability given that Indonesia comprises thousands of islands.
The amphibious version would be aimed at the country's tourism market. The company also sees various local governments obtaining the aircraft.