Representatives from three distinct industry segments have underlined their belief that aviation can meet its goal of net-zero carbon emissions by 2050, but stress that there is no single route to achieving that aim.
Regardless of how industry gets there, aviation will hit its target, panelists at an FIA Connect webinar today insisted.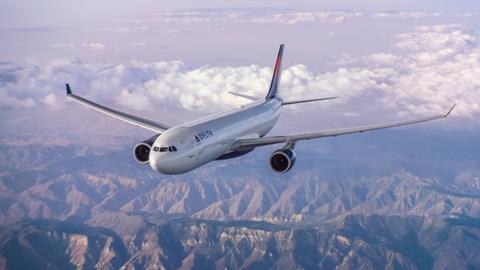 "I'm confident, optimistic and not living in fear" says Amelia DeLuca, managing director of sustainability at Delta Air Lines, who points to commercial aviation's resilience in the face of the Covid-19 pandemic as a sign of its adaptability.
The industry "came together in ways that we could not have imagined", and DeLuca believes the same will apply to decarbonisation efforts where "every step of the way there will be new partners".
Sean Newsum, director of environmental strategy at Boeing, was more nuanced. "I'm confident that it's possible," he says, but emphasises that hitting the target will rely on the industry's ability to access sufficient supplies of sustainable aviation fuel (SAF).
"It is not a fundamental physical limitation, it's a business limitation," he says. While there is "enough potential supply" to meet the industry's goals, "we need to be scaling up production faster than we are today", he says.
Max Fenkell, policy and government affairs lead at electric aircraft developer Joby Aviation, is "just as confident as everyone else".
"We are just [at] the beginning of the next generation of aviation. I'm excited to see what that's going to enable," he adds.
DeLuca says there is "not one answer" to solving the problem of greenhouse emissions. "If we commit to one answer we'll sell ourselves short – especially for a global airline like Delta."
She insists that options like carbon offsetting – which have been criticised by some from the environmental lobby – remain a valid tool, but should not be the only solution: "There has to be an 'and' with it, not an 'or'."
While Boeing's rival Airbus has backed hydrogen as a future fuel for the 2030s, Newsum cautions there is "some fundamental technological development that needs to take place at airplane system level" for it to become viable.
Similarly, DeLuca distances Delta from its competitor United Airlines' embrace of supersonic flight through a recent deal with Boom Supersonic.
She notes that such jets require significantly more fuel to operate than conventional aircraft – an issue which is magnified if scarce SAF is used for supersonic flight.