While there is optimism for further efficiency gains from existing powerplants, and development of electric and hydrogen technology for small aircraft over this decade, the scale and cost of supporting deployment of zero-emission aircraft across the wider airline market remains the key challenge ahead.
Panellists on FlightGlobal's disruptive propulsion webinar all flagged that progress can be made over the coming years from existing technologies.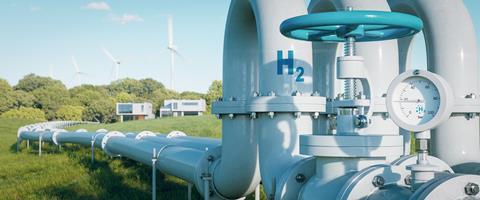 For example Norwegian carrier Wideroe, which is working with partners including Roll-Royce, Tecnam, Embraer and Eve on various projects, is optimistic these initiatives will come to fruition this decade.
"Our aim is to see the first zero-emission small commuter aircraft available in Norway this side of 2030, and hopefully a regional-sized aircraft around 2030… and that aligns with the technology expectations." says Andreas Aks, who heads its clean-sheet aircraft concept unit Wideroe Zero.
He sees Wideroe as an early adopter because of the availability of renewable energy in Norway and the short duration of many of its flights.
However, deploying greener technology to larger operations is a far bigger task. Michael Winter, senior fellow for advanced technology at engine manufacturer Pratt & Whitney outlines the scale of the challenge.
"The commercial fleet in 2019 burnt about 100 billion gallons of fuel, and that number continues to grow post-Covid at about 4.5% year over year. When you think about that in terms of equivalent energy, that is about 600 gigawatts – that represents on an electrified basis of about 15% of the world's generator capacity.
"If you look at the world production in 2019 of hydrogen, and used 90% of that for aviation, you would power 10% of the commercial fleet," he says. "Most of that hydrogen is used to make fertilizer for ammonia, which goes to feeding the planet.
"Until the infrastructure can catch-up, it's really going to be a significant challenge," he adds. "And when you look to hydrogen, and if you only want to use green hydrogen from renewable and electrical sources, the challenge is staggering on an infrastructure basis."
Nikhil Sachdeva, global lead for sustainable aviation at consultancy Roland Berger, similarly points to the scale of the infrastructural challenge.
"We talk a lot about new aircraft, awesome. We talk a lot about new technologies, fantastic. But it's the entire depth of the supply chain that needs that innovation to happen.
"When Thomas Edison invented the light bulb, he had to invent the entire electrical grid to sell the light bulb," he says.
He also highlights the cost implication for consumers of creating that infrastructure for aviation.
"Ultimately it comes down to cost. We have to recognize in this amazing industry, we have had this democratisation of travel over the past decades, enabled by the technologies we have come to take for granted today. Is it possible for us to make this transition to sustainability without scuppering this achievement? How can we do it in a cost-effective way?
"It's really the whole ecosystems we need to worry about," he adds. "If we look at hydrogen, we need electrolysis capacity, but we have to recognise a lot of other industries also need hydrogen. Aviation is not going to be first in line. There are industries that need hydrogen more than aviation.
"And when we get to larger aircraft, we probably need to liquefy that hydrogen, which aviation will most likely have to pay for because other industries won't need it."
Despite the challenges, P&W's Winter though still sees an opportunity for hydrogen to be part of the technology mix as airlines strive to reach net-zero carbon by 2050.
"We looked at all the daunting challenges associated with hydrogen, the storage, the higher production of oxides of nitrogen, the water in the contrails, and at first we thought … maybe it wasn't such a great idea. We are moving beyond that now. We see, as engineers, maybe there is an opportunity to reimagine what the system looks like," he says.
Notably in February this year P&W detailed its plans to develop a novel hydrogen-burning engine that will cut carbon dioxide emissions to zero, slash nitrous oxide emissions by 80% and reduce fuel consumption for next-generation single-aisles by 35%. The Hydrogen Steam Injected, Inter‐Cooled Turbine Engine (HySIITE) project has been awarded $3.8 million in research and development funding by the US Department of Energy.
Much of the attention remains on when sustainable solutions, and which, will be available for single-aisle aircraft. Airbus, for example, is heavily engaged in its ZEROe programme to design and produce a hydrogen-powered aircraft with a view to service entry in 2035.
"We will be ready with the right technologies in the right time," Winter says. "For the next generation, if it is introduced in the middle of the next decade, it's likely to embrace some of the technologies.
"For example we do believe that electrification could find its way in if the aircraft is architected to accommodate that – we will be ready with the right technologies.
"For hydrogen to be ready and available at the flight line, at scale, anywhere on the planet, probably going to be a little bit further out."
Hydrogen and electrics: the great disruptive propulsion debate
To watch a replay of the latest FlightGlobal webinar, sponsored by Pratt & Whitney, register here