Airbus UpNext, one of the airframer's innovation arms, is gearing up for a busy fourth quarter, as demonstrators being developed across its portfolio – from morphing wings to superconductive cables – accelerate towards critical test phases.
And by the end of the year, it may also be the proud owner of a secondhand A330 widebody, which will serve as a flying testbed for future fuel cell research.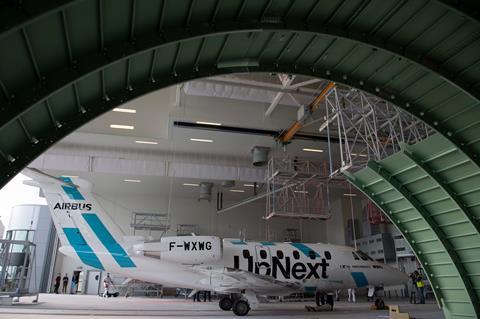 Those test milestones will also mark a frenetic end to the first 12 months in charge for UpNext chief executive Michael Augello, who took over from predecessor Dr Sandra Bour Schaeffer in January.
However, the rapid pace of activity is not something that concerns Augello, who, only half-joking, describes the semi-autonomous business as a "centre of competence for craziness".
In fact, all its research activities have a maximum three-year duration, designed to ensure that teams move as quickly as possible but without burning out.
Unlike more traditional research and technology divisions, UpNext has "a more agile approach", he says. "We don't know what will happen in the course of a demonstrator, we just know what we want to get out of it."
All its demonstrators – they are not 'projects' in the "pure sense", Augello insists, due to the more flexible approach – are informed by its parent's strategic goals, but with the freedom to address those as it sees fit.
UpNext sits, he says, somewhere between a "pure start-up" and part of a larger corporate giant; it has its own budget and can hire who it likes, but lacks the "full latitude" of being a stand-alone business. That said, it also means the unit has the "option to fail" without needing a continual focus on fund-raising tied to success.
"If we don't have an option to fail we are restricting ourselves – either in speed or cutting ourselves off from bold ideas because they are too risky."
The strapline for the unit – which arguably serves as its mission statement – is "Boost Airbus by accelerating future technologies flying future technologies today". In other words, demonstrators are at the heart of UpNext's work.
Its current portfolio covers the scope of its parent's business: from defence (Auto'Mate – autonomous in-flight refuelling), to helicopters (Vertex – advanced helicopter flight controls), to commercial (Extra Performance Wing – morphing wing technology).
There is also a growing focus on future power sources including hydrogen through Blue Condor (hydrogen combustion contrail measurements) and HyPower (using fuel cells for non-propulsive applications), alongside high-voltage electrical distribution via Ascend – a project, for lack of a better word, looking into the use of superconductive materials which also involves the European nuclear research body CERN.
On top of which is a further group of proposed demonstrators the company is not yet ready to talk about.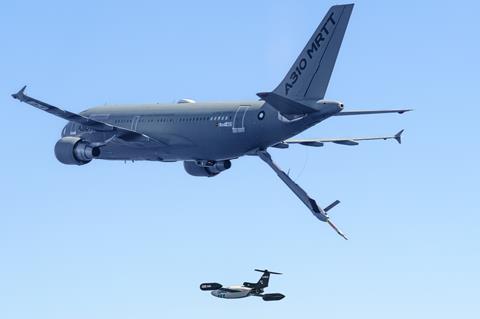 Given the number of demonstrators and the three-year timeline for each, it is inevitable that several test campaigns will proceed concurrently – but in this case, all of them seem to be taking place at the same time.
In the coming weeks, says Augello, UpNext will: perform the first baselining flights of the Cessna Citation VII jet that will later receive the morphing Extra Performance Wing; carry out the second phase of autonomous formation flying under Auto'Mate; move to the next stage of flight-control tests in Vertex; fly Blue Condor and chase contrails; and run the full superconducting electrical system, including a motor, being trialled in Ascend.
There will be no let up in 2024, however, with contrail data collection beginning through Blue Condor and conversion of HyPower's A330 into a flying testbed.
On top of which, the Citation VII (F-WXWG) will be undergoing the major surgery required to attach the "super-slender" Extra Performance Wing.
Augello says UpNext is "eager to get this aircraft flying" – a milestone expected in the next four to six weeks. Once the collection of baseline flight performance data is complete, the Citation VII will be flown to Cazaux, near Bordeaux in southwest France, where, beginning in 2024 "we will remove the wings" – chopping them off at the root.
The experimental wing will then be installed, plus a control system to allow the aircraft to be flown remotely. Speed – of the project and of the aircraft itself – is vital, he argues. To achieve the first of those, UpNext will not certify the full wing, simply "make it as good as possible" to obtain a permit to fly.
And on the second, Augello says the goal is to "fly at a very representative cruise speed" of a current civil airliner. "The wing is one-third scale but then we can go as close as possible to the real thing."
The aim is to evaluate the aerodynamic performance benefits and the feasibility of the wing-morphing technology, which includes aero-elastic hinges and gust sensors. This could then be scaled to the size required for a future airliner.
Meanwhile, over at Airbus's E-Aircraft Systemhaus test facility in Ottobrunn, Germany, the superconductive electrical distribution system being developed through Ascend is taking shape. "That's really the Star Trek technology brick," he says. The goal is to achieve "power transmission with basically no loss", and an overall weight reduction through significantly thinner wiring.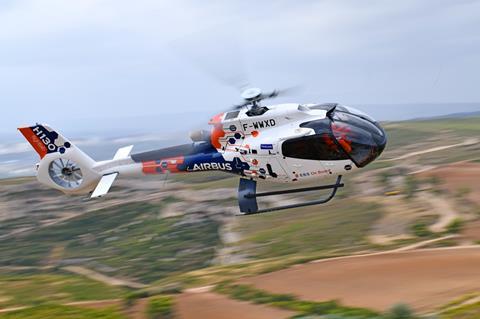 Augello says its team has been progressively integrating components and in the "next weeks we aim to have everything together and to flick the switch to have the full system operating".
Having a partner like CERN on board has been vital, as it brings deep expertise in superconductivity to the effort. UpNext, for its part, has the requisite knowledge to integrate that system "into the constraints of a nacelle".
Announced at the Paris air show in June, HyPower is examining the potential for hydrogen fuel cells to provide non-propulsive power aboard the aircraft – essentially a replacement for the traditional auxiliary power unit. Augello says ground-test activities are due to kick-off this year and will be "running at full speed in 2024", including with an 'iron bird' test asset.
Modification of the A330 will take place next year, ahead of flight tests starting in 2025.
Of course, that hinges on acquiring the twinjet in the first place. But Augello is confident that it will be in UpNext's hands soon: "We are in the process [of buying it] – but it's looking good," he says.
UpNext also has an ambition to use off-the-shelf components in the testbed, alongside gaseous rather than liquid hydrogen, "removing complexity" from the effort and enabling it to move at speed.
However, he is coy on the source of the fuel cells. Airbus has a joint venture with Germany's ErlingKlinger called AeroStack, which is supplying fuel cells to a separate project under the ZEROe programme. But it is unclear if those cells will also be used for HyPower.
"If we go for another source we are still aligned with [Airbus's] strategic objectives," Augello says.
Augello has an aerostructures engineering background and during his 18-year career at Airbus has worked on high-profile projects including the A380 and A350. Given the usually steady pace of programme production and development you wonder if a shift to such a different environment was in some way jarring.
Not so, he says, arguing that it serves as a "building block" that complements his previous experience: "If you compare it to a sweet shop this was the biggest lolly I could hope for," he says.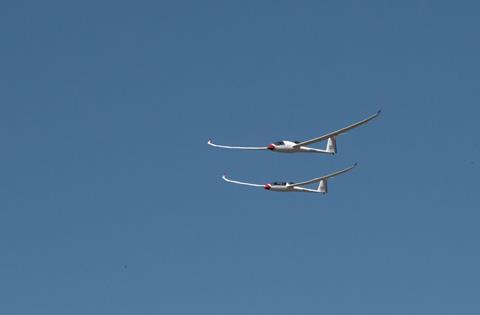 "Actually, I'm sometimes astonished how crazy Airbus is to give us this latitude, this leeway of experimenting – of defining experiments and then running as fast as we can with only helpful constraints. That takes a lot of courage with the people here."
Although Augello is unable to divulge what UpNext's future projects are, he says they are informed by the priorities of Airbus's divisions – be that a future combat aircraft or the next commercial jet.
"We ask them exactly and precisely this question: what is your biggest concern?" If the answer piques UpNext's interest – if it is "high-risk, high-gain" – then the proposal is provisionally selected and presented, along with others, to the unit's head of engineering. The parameters and success criteria of each are laid out and "we ask: 'Are you in or not?'," he says. "That's when we get a multi-year commitment."
Even if it is selected, not every demonstrator progresses: six monthly reviews can clip their wings. "If we come to the conclusion that either the objectives that we wanted are unattainable, or we have the drop out of a partner, we can decide to unwind it," says Augello. He cites the ill-starred E-Fan X programme with Rolls-Royce – with hindsight a fanciful effort to partially electrify a BAe 146 – as one such demonstrator that never got off the ground.
Equally, plans may have to be altered midway through their work up: the Auto'Mate team initially hoped to use an A350 for the testing but it was needed for development work elsewhere. Instead, they worked with the Airbus Defence & Space team to instead employ Do-DT25 target drones for the trials.
But preventing the over-complication of UpNext itself is what poses the biggest challenge, says Augello. "To keep it simple, that is the hardest thing to do," he says.
As it grows, any organisation risks becoming burdened with bureaucracy or "policies for this and that" that can hinder open-mindedness and a willingness to experiment. "At UpNext, we are in charge of the speed," he adds.
Slowing down is one thing that Augello does not appear ready to do, despite the whirlwind start to his tenure. "I'm still amazed after nine months what a great chance we have here," he says.
"UpNext was created five years ago; it was the bold idea of a few people that is now starting to be appreciated as it is allowing us to experiment."

Dominic Perry is deputy editor of Flight International but also contributes extensively to flightglobal.com. Although specialising in the coverage of the helicopter industry, he has written on most topics in aerospace – be they commercial, defence or business aviation. In addition, there has been an increasing focus on the decarbonisation of the industry and zero-emission flight initiatives.
View full Profile