An Israeli start-up is the latest to join the race to bring to market a next-generation airship, joining the likes of the UK's Hybrid Air Vehicles (HAV) in a nascent sector that has seen more failed efforts than successes in the 83 years since the Hindenburg disaster.
Atlas LTA plans to offer a family of three hybrid airships ranging from the Atlant 30, a 99m- (325ft-) long design, capable of carrying 18,000kg (39,700lb), to the 198m-long Atlant 300, which comes with a 165,000kg payload. In between comes the Atlant 100. The company hopes to have the first variant, the Atlant 30, on the market in "four to five years".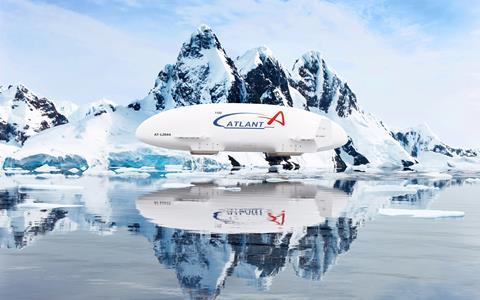 The Rosh HaAyin-based business is pitching the products mainly at companies transporting outsize freight to remote areas, because, says founder and chief executive Gennadiy Verba, the airships require no ground infrastructure and have a range of 1,080nm (2,000km).
Atlas LTA claims to have secured letters of intent for up to 35 Atlant airships from the United Nations World Food Programme, which often needs to deliver aid to isolated, disaster-struck communities, and from wind turbine suppliers Siemens Gamesa Renewable Energy and Vestas Wind Systems. Constructors of wind turbines can find it difficult to access out-of-the-way sites and often rely on off-road trucks and barges, says Verba.
The Atlant concept differs considerably from rivals such as HAV's Airlander 10. The rigid frame is encased with hard panels rather than a thinner membrane, and has a cargo bay integrated into the body – 26m x 9m x 5.3m in the case of the Atlant 30 – that can be adapted to a cabin with seating and windows in a passenger variant.
Three-quarters of the power at cruise will come from diesel engines, driving four main drive motors, but to enhance its environmental credentials, around 22% will be provided by hydrogen fuel cells, supplied from a pressurized-hydrogen tank inside the hull and separated by bulkheads from the helium sacks that provide the buoyancy.
According to Verba, who developed dirigibles in Russia before moving to Israel to set up Atlas, the Atlant family could represent the "first step to using hydrogen power in aviation".
To allow vertical take-off and landing, a battery pack will power four sets of four downward-facing auxiliary lifting motors, which will combine with the four vectoring main drive motors to provide lift.
Unlike the Airlander 10, the design does not require tethering, says Verba. Instead, "an adaptive mooring system" uses a suction system and retractable anchors, with pressurized air used as additional ballast when cargo is unloaded.
As with other hybrid designs, lighter-than-air helium provides most of the buoyancy in powered flight – in the Atlants' case, about two-thirds – with the rest coming from the aerodynamic design itself.
Aside from a passenger version – the Atlant 30 would be able to carry around 60 travellers in a "ferry" configuration or fewer as a luxury transport – other applications for the products, says Verba, include firefighting and emergency response when local infrastructure is damaged such as in a natural disaster.
Verba was previously involved in a Russian business called RosAeroSystems, whose designs Atlas LTA has acquired. Atlas LTA also plans to offer in the next two years a hybrid electric-powered version of a traditional airship designed by RosAeroSystems called the AU-30, of which five were produced in Russia between 2003 and 2013.
Rebranded as the Atlas 11, it will be capable of carrying 17 passengers on sightseeing flights and is a pressurized blimp with a similar design and dimensions as the Zeppelin NT, developed in the 1990s by Zeppelin Luftschifftechnik in Friedrichshafen, Germany. Verba describes the Atlas 11 as "an important step towards Atlant due to its innovative electric powertrain".
The fatal crash of the Hindenburg in 1937 in Lakehurst, New Jersey effectively ended the age of the airship as a luxury passenger transport. Airships have since been deployed very occasionally in military roles, and a handful of Zeppelin NTs are used for short tourist flights. However, no developer has successfully commercialised a hybrid airship design for the outsize cargo market.
HAV, which has been trying to bring its Airlander 10 to market for several years after a predecessor company originally designed the concept for a cancelled US military contract, is still confident of securing the launch orders that would allow it to begin production.
Verba, who is looking at potential manufacturing facilities in Israel for Atlas LTA, welcomes the competition from HAV, as well as others including Lockheed Martin, which has built its own technology demonstrator hybrid airship called the P-791. "As soon as any of us succeed in this market, it will open opportunities for us all," he says.