Japan Airlines (JAL) has signed a partnership agreement with start-up sea-glider developer Regent Craft, as it aims to bring operations to the country in the near term.
The agreement, announced 6 October, will see the two parties work together to establish a system for operations in Japan, including planning for the first demonstration flight in 2025.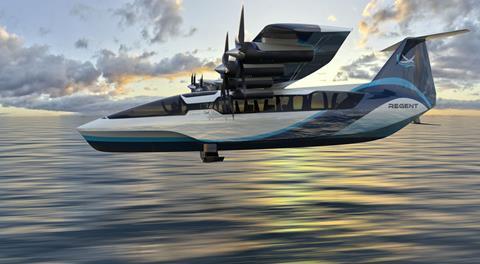 "Together, the companies will collaborate to drive awareness and understanding of sea-gliders in the region, identify jurisdictions for sea-glider operations by JAL and JAL Group operators, develop infrastructure for sea-glider operations… and obtain certification for the safe operation of electric sea-gliders," the pair say.
The agreement follows a January announcement where Rhode Island-based Regent secured funding from JAL's venture arm Japan Airlines Innovation Fund. The amount pledged was not disclosed, but Regent indicated it was its largest overseas investment to date.
In addition to working to establish operations in Japan, the agreement will also see JAL's aviation services unit JALUX acting as sales agent for the sea-gliders.
JAL senior vice president for digital innovation Yasushi Noda says: "With Japan being an island nation, [the] sea-glider offers great potential for our country to connect people and to transport goods throughout the nation in a sustainable manner.
"By joining forces with Regent and utilising their compelling technology, we look forward to bringing this revolutionary vehicle to the global market in the near future.".
Apart from JAL, Regent is also working with Hawaii's Mokulele Airlines, Southern Airways Express and regional airline Mesa Air Group, which in 2022 committed to purchase 200 aircraft.
Regent's flagship model is the Viceroy, which has a range of around 160nm (296km), is designed to carry up to 12 passenger and two crew members. The airframer says it aims to conduct passenger-carrying flight trials in 2024, with commercial service to commence a year later.
Apart from establishing sea-glider operations, JAL is also investing in the development of advanced air mobility in Japan, including commitments for up to 100 electric vertical take-off and landing aircraft from Vertical Aerospace.