Japan Airlines is courting a trio of advanced propulsion developers at it explores the possibilities of hydrogen-powered regional aviation.
The Tokyo-based airline said on 16 November that it has "basic agreements" with H2FLY, Universal Hydrogen and ZeroAvia, and that it is working with the three competing hydrogen propulsion start-ups "to study the safety, economic feasibility and maintainability for bringing hydrogen-fueled, next-generation aircraft" to Japan.
The deals were confirmed by the start-ups, all of which are developing hydrogen-electric propulsion systems for regional aircraft.
Such systems use hydrogen in fuel cells to make electricity and power electric motors. The technologies are still under development, though all three companies achieved milestone flights in 2023 and ZeroAvia is preparing to submit a certification proposal for its ZA600 powertrain to UK aviation regulators.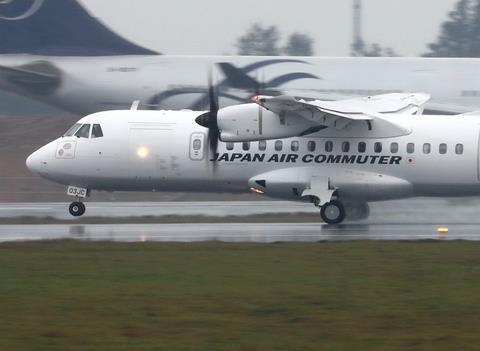 ZeroAvia is also advancing its second engine platform, the ZA2000, which is a hydrogen-electric propulsion system designed for 40-90 seat regional aircraft that it plans to enter into service in 2027.
That platform will be well-suited for 48-seat ATR 42s and 70-seat ATR 72s operated by Japan Air Commuter, which operates under the wing of JAL.
"As part of the agreement, Japan Airlines and ZeroAvia will collaborate on assessing operational parameters for retrofit hydrogen-electric aircraft for existing and prospective routes, as well as collaborating to define pathways for regulation, retrofit operations, hydrogen fuel infrastructure and engine maintenance, repair and overhaul," ZeroAvia says.
German advanced powertrain developer H2FLY says it has "signed an agreement to explore the feasibility of our hydrogen-electric power units as a power source for JAL flights".
Across its companies, JAL operates some 50 regional aircraft. Japan Air Commuter operates nine ATR 42 and two ATR 72s, according to Cirium fleets data, while Hokkaido Air System flies four ATR 42s.
Cirium shows about 60 ATRs and De Havilland Canada Dash 8 regional turboprops in operation throughout the country.
"Japan plans massive investment in hydrogen supply and also in supporting the development of hydrogen aviation, so there is clear opportunity for exploring early adoption," says James Peck, chief customer officer at ZeroAvia.
Under Universal Hydrogen's deal with Japan Airlines and JAL Engineering, the parties will work to develop ATR conversion kits for retrofitting existing turboprops with hydrogen-electric powertrains and build "the overall hydrogen value chain in Japan".
The companies have been working for the "last several months studying green hydrogen supply and logistics solutions for Japanese airlines to scale their utilisation of hydrogen-powered aircraft in the very near-term".
"Japan has long-shown that it is a market with an incredibly strong appetite for green aviation solutions and is home to JAL, one of the most established airlines in the world. As a partner, JAL is impressively demanding on the technical side; their operation is one of the most reliable in the world," says Paul Eremenko, Universal Hydrogen's chief executive.
ZeroAvia has been readying its hydrogen-converted Dornier 228 demonstrator for the next round of test flights at its Cotswold airport base in the UK, while Universal Hydrogen recently kicked off a two-year flight test campaign at Mojave Air & Space Port with its modified De Havilland Dash 8-300 turboprop.
In September, H2FLY flew what it claimed to be the world's first flight using liquid hydrogen, rather than gaseous hydrogen. Using liquid hydrogen fuel extends the range of its HY4 demonstrator aircraft from 405nm (750km) to 810nm, the company says.