Japan Airlines intends to lease or purchase up to 50 of Vertical Aerospace's in-development VA-X4 air taxis from aircraft lessor Avolon.
The order, which sees JAL hold options to lease or purchase another 50 units, comes as it enters into a strategic partnership with Avolon, with the goal of introducing electric vertical take-off and landing (eVTOL) ride-sharing services in Japan.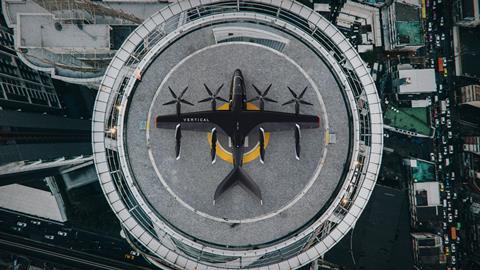 Avolon in June announced an order for 500 aircraft, which are currently developed by UK company Vertical Aerospace. Vertical is aiming for its design to receive type certification from UK and EU regulations in 2024.
JAL, Vertical, as well as Avolon will work with Japanese civil aviation authorities to get the eVTOL aircraft certificated, to allow for service entry by 2025, in time for the Osaka Kansai Expo 2025.
"The introduction of VA-X4 will also contribute to reduce our environmental impact and we fundamentally believe that sustainability will be the engine for future growth across our business and region," says Tomohiro Nishihata, managing executive officer of Japan Airlines.
The VA-X4 will carry five people (including one pilot), fly at speeds exceeding 174kt (322km/h) and have range exceeding 87nm (161km).
Since Avolon's order in June, a number of carriers have indicated their intentions to purchase or lease the eVTOLs, including Brazilian carrier GOL, Virgin Atlantic, as well as American Airlines, which with Avolon announced intentions to become Vertical equity investors.
JAL is Vertical's second Japanese customer for the VA-X4 eVTOL, after Japanese conglomerate Marubeni Corporation announced a pre-order option for up to 200 aircraft in September.
Story updated with additional information about Vertical Aerospace's Japanese orderbook.