The Japanese Aerospace Exploration Agency (JAXA) has enlisted the support of the country's aerospace players to conduct research & development into a supersonic transport.
The agreement envisages the "international joint development" of a supersonic aircraft "around 2030," according to JAXA.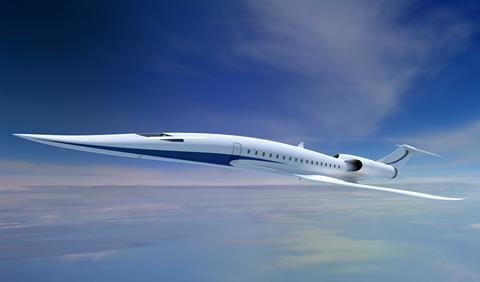 To support the initiative, JAXA has formed a Japan Supersonic Research (JSR) Council comprised of itself, Mitsubishi Heavy Industries (MHI), Kawasaki Heavy Industries, Subaru, and IHI. Also involved are the Japanese Aerospace Exploration Association and Society of Japanese Aerospace Companies.
An initial objective will be to establish a technology roadmap for the initiative that describes the technical issues, technical goals, R&D concepts, and other areas pertinent to supersonic transport.  
"In the future, JAXA will lead the activities of the JSR Council and contribute to the expansion of Japan's aircraft industry through research and development of supersonic aircraft technology in which Japan is united," it says.
"By demonstrating this technology in flight, we will contribute to the formulation of international standards established by the International Civil Aviation Organization (ICAO)," says JAXA.
JAXA has been conducting research into supersonic transports since the late 1990s, including work into the reduction of sonic booms. It claims that its airframe technology can reduce the sonic boom by 50% compared to the former Concorde.
JAXA's website envisages a supersonic transport that can carry 36-50 passengers at speeds of up to M1.6, with a maximum take-off weight of around 70t.
In the early 2000s, the country conducted drop tests with a model to demonstrate low sonic boom technology. These culminated with a July 2015 flight of its D-SEND#2 (Drop test for Simplified Evaluation of Non-Symmetrically Distributed sonic boom) glider at Sweden's Esrange Space Center.
The test, conducted from a balloon drop at an altitude of 100,000ft, saw the test vehicle hit Mach 1.39.
Japan Airlines has also expressed interest in supersonic transports. In 2017 it invested $10 million in Colorado-based Boom Supersonic, and "pre-ordered" up to 20 of Boom's three-engined Overture airliners, which will travel at speeds of up Mach 2.2.
The JAXA announcement comes as MHI works with Lockheed Martin to develop the nation's F-X future fighter, which will eventually replace the F-2 in Japan Air Self Defense Force service. IHI will develop the powerplant for the new fighter.
Japan has had a mixed record in aircraft development over the last two decades. While it developed and deployed the Kawasaki C-2 tactical transport, P-1 maritime patrol aircraft, and Shinmaywa US-2 amphibian, the Mitsubishi Aircraft SpaceJet programme was effectively stopped in 2020 after years of delays and the advent of the coronavirus pandemic.