Japanese engineering group IHI saw its operating profit decrease 42%, to Y28 billion ($256 million), in its financial year ended 31 March, amid a significant decrease in sales from its civil aero engines business.
The group's aero engine, space and defence business made an operating loss of Y40.4 billion, after an operating profit of Y20.8 billion the previous year, on revenue down 34% at Y245 billion. Orders decreased 19% to Y260 billion.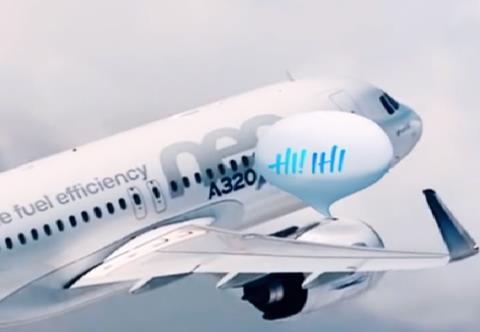 Civil aero engines business has, IHI notes, been greatly affected by the Covid-19 situation. Sales of engines and spare parts have been hit by the drastic decline in transport demand and deteriorating business conditions for airlines.
"The demand for aero transportation on domestic routes is expected to improve after next summer in countries where vaccination is progressing, such as in North America, while for the demand for international routes, immigration restrictions are still not being relaxed, and there is a delay in recovery," the group adds.
It expects that only after financial year 2022 will the international demand begin to increase between developed countries where vaccination is progressing and the demand for engine maintenance accordingly increase. IHI therefore foresees that it will take "several years" to recover its business.
"We will promote the review of production systems in response to fluctuations in demand and shift of resources to strengthen our cost structure, making this situation an opportunity to generate new growth," it says.
"Moreover, our aero engines are mounted on relatively new-type aircraft, and due to their advantage in terms of operating costs, including fuel efficiency, it is expected that operation will be resumed preferentially and earnings in the aftermarket will recover rapidly."
IHI supplies components to a range of engine programmes, including the International Aero Engines V2500, GE Aviation GE90, CF34, GEnx, and Pratt & Whitney PW1100G.
"In order to give every possible support to customers resuming operation of aircraft when transportation demand recovers, we will give the highest priority to strengthening our response in the aftermarket field, as well as driving the evolution of our unique technology and Monozukuri (manufacturing) capabilities to contribute to reductions in environmental impact, such as by developing new engines with greater efficiency and improved fuel economy," says the group.
"Furthermore, with an eye on the expected future of electrification and the introduction of sustainable aviation fuels, we will work to develop products and systems that are safe, comfortable, and reduce the burden on the environment."