Japan-based advanced air mobility company SkyDrive has modified the specifications of its eponymous electric vertical take-off and landing (eVTOL) aircraft by adding an extra seat, amid plans to have the programme certificated by 2026.
Unveiling the modifications at the Paris air show on 19 June, SkyDrive founder and CEO Tomohiro Fukuzawa said the SkyDrive eVTOL could now carry two passengers and one pilot, with an increased maximum take-off weight of around 1,400kg (3,100lb), compared with 1,100kg in the older configuration.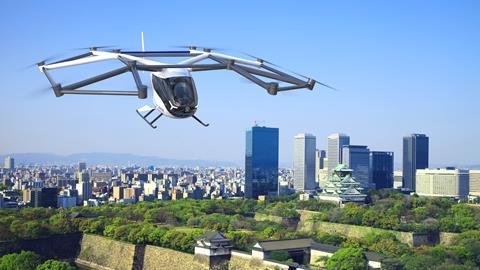 "Our proprietary rotor dome design enables the aircraft to accommodate three passengers while keeping the aircraft compact," SkyDrive adds.
Fukuzawa says the change in seating capacity – which comes on the back of user feedback – is "unlikely" to affect certification efforts. SkyDrive aims to have the Japan Civil Aviation Bureau (JCAB) certificate it by 2026, with US FAA certification to follow soon after.
SkyDrive aims to clinch its airworthiness certificate by 2025, in time for the Osaka Expo held in the same year, where is expects to operate demonstration flights.
Fukuzawa discloses that the company has "over 100 pre-orders" from companies in Asia and the USA. In a presentation at the show, SkyDrive lists Vietnam-based investment firm Pacific Group and USA's Greenville Downtown airport among its customers.
The update comes as SkyDrive announces a partnership agreement with Japanese carmarker Suzuki. Under the agreement, SkyDrive will assemble its eVTOLs at a Suzuki factory.
Fukuzawa says details of the factory's location have not been firmed up, but he hopes the facility will be operational at the start of 2024.
Once fully operational, the facility would be able to produce 100 aircraft annually, he adds.
SkyDrive, based in the city of Toyota, is among a growing list of advanced air mobility companies hoping to capture a slice of the Japanese market. Already three other companies – Volocopter, Vertical Aerospace and Joby Aviation – have applied with the JCAB for type certification of their eVTOLs.