US air taxi maker Joby Aviation is pushing for the electric aviation sector to adopt its system for charging aircraft rather than the automotive-based standards proposed by competing start-ups Archer Aviation and Beta Technologies.
The power struggle between leading air taxi developers could shape how electric vertical take-off and landing (eVTOL) aircraft charging infrastructure is developed and rolled out in the years ahead.
Eric Allison, Joby's head of product, tells FlightGlobal on 8 November that the Santa Cruz, California-based company has the most experience operating battery-powered aircraft among its peers.
"We have been building and flying electric airplanes for over 10 years," says Allison. "We feel like we understand the ins and outs of this technology. We've done over 1,000 test flights of our aircraft… We've charged and conditioned batteries probably more than anybody else in the space at this point and understand the rigours of doing this right."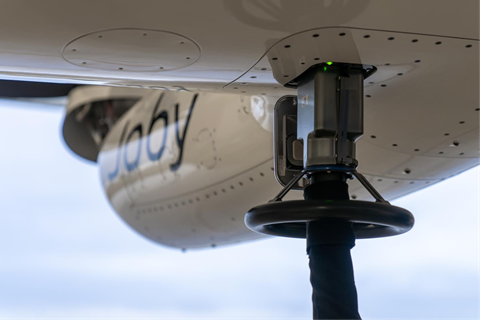 The company recently said that it would make its charging system's specifications freely available to other companies in the eVTOL space. Around the same time, Archer and Beta said they would work together to "spur the widespread roll out" of their own vision for shared charging infrastructure.
Archer and Beta on 7 November called for the sector to adopt the Combined Charging Standard, which they describe as a "multi-modal, interoperable standard employed by the top OEMs" of electric vehicles.
"When we designed our chargers, we saw an opportunity to support the entire sector by using an already peer-reviewed standard," said Kyle Clark, Beta's chief executive.
"The adoption of a unified charging standard will help promote electric aviation's development at scale," added Pete Bunce, chief executive of the General Aviation Manufacturers Association. "Enabling electric aircraft and electric ground vehicles from different manufacturers to share charging infrastructure will help reduce the costs of electrifying existing infrastructure."
The close timing of the two announcements was not coincidental, Allison says, as Joby had recently approached its competitors about sharing its specifications. "I'm pretty confident that that is actually what stimulated the press release from folks that have a different perspective on things," he says.
Beta has charging systems at 14 US East Coast locations and plans to install a further 55 stations "along the East and Gulf Coasts, as well as at Archer's facilities in California", says the Vermont-based company. As part of the partnership, Archer has purchased several of Beta's fast-charging systems.
Notably, Washington-based electric aircraft developer Eviation told FlightGlobal in February that its all-electric Alice aircraft will likely be recharged using connectors similar to the Combined Charging System used widely by the automotive industry. At the time, Eviation had already installed two such charging systems in Moses Lake and Arlington.
Joby calls its charging interface "universal", capable of handling the high-performance demands of air taxi missions and of electric conventional take-off and landing (CTOL) aircraft. It is also aviation-specific, "unlike the repurposed automotive standard currently being discussed".
The system is being used to charge the production prototype aircraft Joby recently delivered to the US Air Force's Edwards AFB. Joby is also using the system at its flight-test facility in Marina, California.
"We're pretty confident that this is the right approach and that this works, that we've worked out the technical details," Allison says. "Because we are developing it for the air taxi mission – and this is like the hardest mission for electric aircraft – it's also going work for other things."
"For all the easier missions – conventional take-off and landing, slow charging – you can do all that with the same system we laid out, but you can also do the air taxi mission in a way that really works," he adds.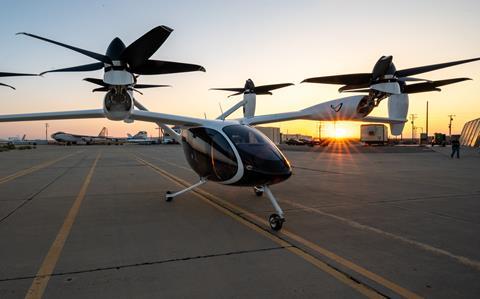 Allison calls eVTOLs "hard-mode electric airplanes", adding that the air taxi mission's charging requirements are "very challenging", requiring rapid turnarounds, high aircraft utilisation and fast-charging capabilities.
Joby believes the Combined Charging System is not up to the task – and that its own system is.
"This is something we've designed for an aviation application," Allison says, "so it's not a warmed-over automotive standard that frankly kind of failed in the automotive market and is now being looked at here."
Allison says Joby's system for charging electric aircraft distinguishes itself in three ways, starting with charging multiple independent batteries simultaneously.
"Most of the aircraft manufacturers that work on eVTOL – but also CTOL-type applications – are looking at having multiple independent batteries as part of the system safety architecture," he says. "We have four independent battery packs within our aircraft. Being able to charge multiple of those simultaneously with the same connector… is an important feature."
The second critical element is the need for battery conditioning – the process of bringing dead cells back to full charging capacity. Joby's system "couples together battery conditioning with rapid recharging in a smart way", says Allison. "Charging is aware of the conditioning and the conditioning is aware of the charging."
The third is cybersecurity, which Allison says "gets a little bit missed by folks that haven't gotten as deep into the certification process as we have". Joby's system features "secure and high-speed data offload" that the company expects will meet the Federal Aviation Administration's safety and cybersecurity requirements.
"Cybersecurity is at the forefront of how this works," Allison says. "If you park your airplane and plug something into it, can the thing you plug into it affect the airworthiness of the airplane? You have to be able to answer that question. We have designed our system to take that into account from the very beginning."
From Joby's perspective, all of its competitors in the eVTOL sector will have to confront these challenges. Meanwhile, the company is submitting its system specifications to standards bodies in addition to making them available to peers.
"We think we came up with the right technology solutions on this," Allison says. "We want to share [them] with others."