The National Transportation Safety Board (NTSB) says in a preliminary report that a mishap involving a Joby Aviation all-electric vertical take-off and landing (eVTOL) prototype last month was due to "a component failure".
"On February 16, 2022, at 09:58 am Pacific standard time (PST), a Joby Aviation JAS4-2 experimental aircraft, N542AJ, experienced a component failure over an uninhabited area near Jolon, California," the preliminary NTSB report, released on 8 March, says.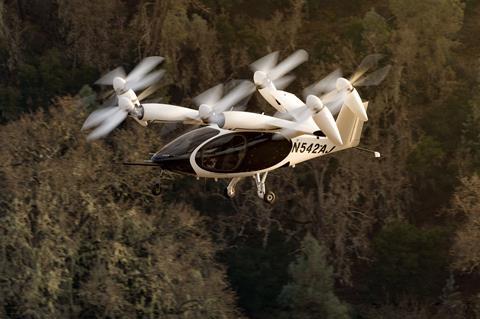 "There were no injuries, and the aircraft was substantially damaged," it adds.
The aircraft was operating an flight test under so-called Part 91 rules and had an experimental category special airworthiness certificate issued under Part 21, NTSB says. Jolon is located about 174 miles (280km) south of San Francisco.
Joby reported the 16 February crash in a filing with the Securities and Exchange Commission (SEC) late that day.
The Santa Cruz, California-based company did not immediately respond to a request for comment on the preliminary NTSB report.
Joby is developing an eVTOL aircraft with five seats that is planned to have a maximum range of 133nm (241km) on a single charge and travel at a top speed of 178kt (321 km/h).
Joby hopes to gain Federal Aviation Administration certification for the craft in 2024, enabling the launch of commercial operations the same year. It is unclear what effect the accident will have on that timeline.