Korean Air's aerospace division (KAL-ASD) has disclosed a contract extension for the production of winglets for the Boeing 737 Max.
The company says the new contract to manufacture the narrowbody's winglets will run from 2022 to 2028, and is valued at approximately $292 million.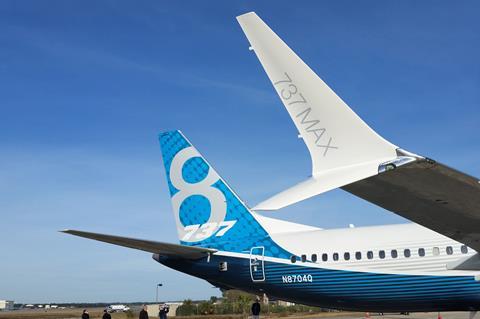 However, KAL-ASD warned that given the uncertainty in the "sales situation" surrounding the 737 Max, which was the subject of a global grounding up until late last year, it is difficult to "confirm" the exact number of winglets it will producing.
KAL-ASD, a key player in Boeing and Airbus' supply chains, first clinched the 737 Max winglet production contraction in 2016.
The 737 Max was grounded globally following two fatal crashes that killed 346 people. In early December, the US was the first country in the world to lift the type's grounding, and the move was soon followed suit by other jurisdictions, including the European Union, Canada, as well as Australia.
South Korea, where KAL-ASD is based at, has not lifted the 737 Max grounding.