Korean Air, Incheon International Airport Corporation (IIAC), and the Korea Aerospace Research Institute (KARI) have entered an agreement to explore urban air mobility (UAM) management.
The research & development pact will explore the development of a "safe and efficient UAM transportation management system," says Korean Air.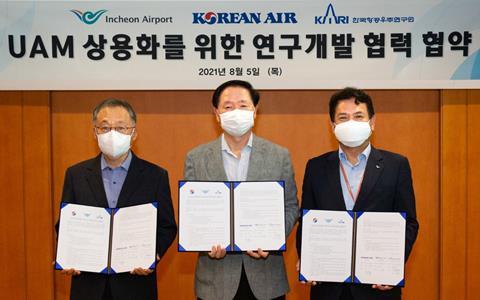 The pact will also help develop South Korea's broader UAM sector.
"With its extensive experience operating commercial aircraft and expertise in unmanned aircraft development, Korean Air aims to develop the domestic UAM industry through synergy with the IIAC, which has air navigational aids and airport construction and operation capabilities, and KARI with its research competencies regarding future air traffic management," says the carrier.
The Korean Air Aerospace Division has extensive experience with both manned and unmanned aircraft work, and has previously expressed interest in the nascent UAM space.
Other Asia-Pacific airlines have also expressed interest in the UAM field. Japan Airlines (JAL) in particular is interested in exploring the field, and announced several investments in the field in 2020, mainly involving moving cargo by drone. It is also working with German UAM firm Volocopter.
Other Korean aerospace players, namely Korea Aerospace Industries and Hanwha Systems, also see UAM as a promising new business area.
Korean Air says that the global UAM market is expected to hit $1.5 trillion by 2040. It notes that Seoul formed an initiative named UAM Team Korea in June 2020 that aims to commercialise UAM in South Korea by 2025.