VoltAero has boosted its backlog with a pre-order for 15 of its hybrid-electric aircraft – a deal that could include all three models in the French developer's Cassio line-up.
Revealed on 23 May, the commitment from Swiss fractional ownership provider SKY2SHARE covers the five-seat Cassio 330, while "also incorporating the flexibility" for the operator to later take the six-seat Cassio 480 and 12-seat Cassio 600.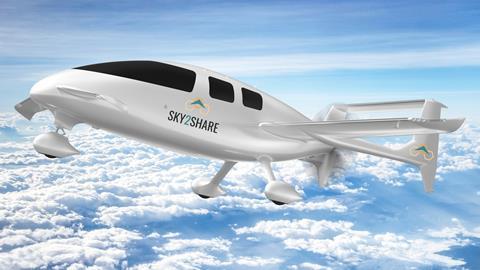 Including the latest agreement, VoltAero has now accumulated a total of 218 orders and commitments for its Cassio family.
Chief executive Jean Botti says around 60% of its backlog is for the five- or six-seat aircraft, with the remainder for the larger model.
"Cassio is perfectly tailored for SKY2SHARE's ambitious goal of providing productive and environmentally conscious mobility services that reduce business aviation's environmental footprint," says Botti, who also serves as the company's chief technology officer.
VoltAero's Cassio hybrid-electric module combines a 150kW (201hp) thermal engine supplied by Kawasaki Motors – the model already powers motorbikes produced by the Japanese firm – with a Safran Engineus 100 electric motor and a gearbox supplier by French firm Akira.
First flight of the initial Cassio 330 prototype is expected this autumn, leading to certification by end-2024. The two subsequent aircraft will follow at intervals of up to 18 months, says Botti.

Dominic Perry is deputy editor of Flight International but also contributes extensively to flightglobal.com. Although specialising in the coverage of the helicopter industry, he has written on most topics in aerospace – be they commercial, defence or business aviation. In addition, there has been an increasing focus on the decarbonisation of the industry and zero-emission flight initiatives.
View full Profile