Lessor LCI has ordered up to 125 Beta Technologies ALIA-250 electric vertical take-off and landing aircraft.
Described as a "deposit-backed agreement", the deal will see LCI initially take 50 units of the five-passenger aircraft, with options for another 75 examples. No delivery timeline has been disclosed, however.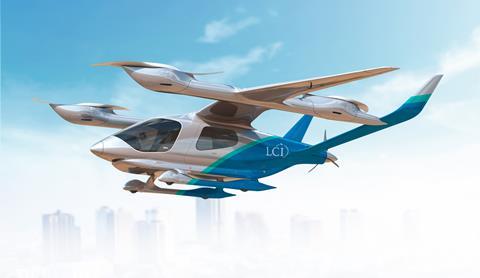 Beta claims the ALIA will have a maximum range of 250nm (463km), and will carry five passengers and a pilot or 635kg (1,400lbs) of payload. Maximum take-off weight is listed as 3,175kg.
A winged design, the ALIA features four rotors for lift plus a tail mounted pusher propeller. Recharging the aircraft's batteries should take around 50min, the company says.
Jaspal Jandu, chief executive of LCI, says: "We are embracing this new era of sustainable flight and Beta Technologies' innovative approach makes them a natural and credible partner."
LCI joins existing customers for the ALIA-250 including logistics firm UPS – which last year signed for up to 150 aircraft, with deliveries from 2024 – and urban air mobility operator Blade, which will take 20 examples, also from 2024. The US Air Force is also evaluating the design for logistics missions under its Agility Prime initiative.