Italy's Leonardo continues to see improvements at its aerostructures unit and remains confident that it can hit breakeven in 2025.
Lucio Valerio Cioffi, Leonardo general manager, says the pandemic, and the consequent downturn in civil aircraft production, "interrupted" the "good progress" the company had made in restructuring the unit and reducing losses.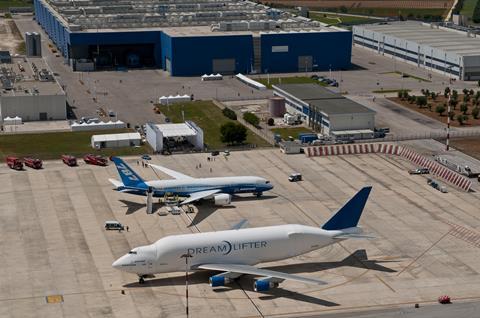 "We have implemented a recovery path with a clear vision and strategy which has allowed us to invest over €300 million to reposition the civil aerostructures business and make it stronger for the future," he says.
He notes "important signs of recovery" from the Airbus programmes it is involved in – the A220 and A321neo – with the ATR joint venture and the Boeing 787 also showing signs of life.
In its half-year results, released in late July, order intake for the division rose by 18% year on year, benefitting from orders for the two Airbus jets
However, revenue slipped by 23.3% to €234 million and EBITA losses worsened by 7% to -€88 million.
Nonetheless chief financial officer Alessandra Genco sees revenues improving in the second half as "production rates are planned to increase… in line with customer demands".
With Boeing restarting deliveries of the 787 earlier in August, for which Leonardo makes composite fuselage barrels and vertical stabilisers, higher production rates are likely on that programme as the airframer burns through its stored inventory and airline demand increases. Presently it is building just two shipsets per month – a far cry from the 14 per month that were rolling out of the factory pre-Covid.
But Cioffi cautions that the "business still faces significant challenges related to uncertainty about recovery timing for the long-haul aviation market".
One factor dragging down the division's performance has been the under-utilisation of production capacity. In particular, its flagship plant in Grottaglie, which makes the fuselage sections for the 787, is sized for much higher output than seen at present.
Leonardo has begun addressing this issue, notably signing a deal earlier this year with UK-based air taxi developer Vertical Aerospace for the production of fuselages for the latter's VX4 aircraft.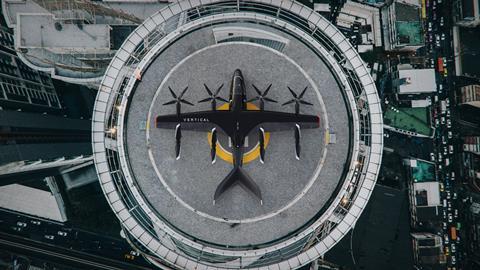 Under the agreement, the pair will work together on the design, testing, manufacture and supply of an initial six fuselages for the VX4's certification programme, which will be made at Grottaglie.
The pact could later be expanded to "scale fuselage production to 2,000 aircraft per year", likely from 2025, to meet current market demand for the VX4.
While the production contract is not yet assured, Leonardo chief executive Alessandro Profumo, speaking at July's Farnborough air show, said the company is "already starting to consider how to optimise the cost structure [of VX4 production] in terms of tooling".
This needs to combine the sometimes divergent aims of keeping costs down while enabling output to "be incredibly rapid", he says.
Speaking at the same event, Cioffi was at pains to stress that Leonardo's relationship with Vertical is based solely on the supply of aerostructures "where we are diversifying all the [factories] in order to have more revenues and to cover the lack of manpower hours that we have at Grottaglie and at other sites".
In other words, Leonardo – which has a large helicopter business – is considering its response to the air taxi market. "We have some internal ideas," notes Cioffi.
In the meantime, the Italian firm continues to develop the enabling technologies – airframe, avionics, sensors, propulsion – and the relevant architectures required to support the next generation of aircraft.
"The broad spectrum of advanced air mobility – including crewed and uncrewed systems – is an integral part of our technology development roadmap for the next 20 years, therefore we're carefully looking into it," says Cioffi, pointing to Leonardo's work on several initiatives.
But he cautions that numerous factors, both technological and societal, must come together before the company is ready for a programme launch. It is these factors, rather than falling behind the rest of the industry, that are its main considerations, he adds.
"Therefore, we'll carefully evaluate timing; we're not concerned of any missed first-mover opportunities," Cioffi says.

Dominic Perry is deputy editor of Flight International but also contributes extensively to flightglobal.com. Although specialising in the coverage of the helicopter industry, he has written on most topics in aerospace – be they commercial, defence or business aviation. In addition, there has been an increasing focus on the decarbonisation of the industry and zero-emission flight initiatives.
View full Profile