Lufthansa Technik's establishment of a maintenance site in Manila in 2000 was a central step for the German MRO provider to build up an international facility network and gain access to local customers, recalls the Philippine operation's chief executive Elmar Lutter.
Speaking during a 23 March webinar as part of a Philippine government campaign to attract investment to the nation, Lutter said LHT's decision to establish a base maintenance operation there had been "big leap of faith".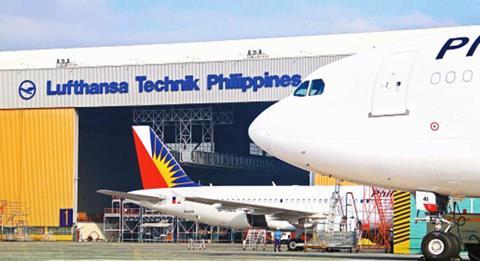 Prior to LHT's own formation in 1995, as part of Lufthansa's privatisation, the German airline had established together with Air China maintenance joint venture Ameco Beijing in 1989. Soon thereafter, Lufthansa established together with Swissair and former Irish leasing company Guinness Peat Aviation maintenance joint venture Shannon Aerospace, which has since become a wholly owned LHT subsidiary under the MRO provider's branding.
But Lutter says: "We didn't have anything comparable [to Lufthansa Technik Philippines] in the world at that time." He adds that the prospect then of starting a joint venture "of this size", with 1,500 employees and a $200 million investment requirement, was "a big unknown for us". Lufthansa Technik Philippines (LTP) is 51% owned by LHT, while local aviation service provider MacroAsia holds a 49% stake.
The move to pursue the JV has proven to be a "very successful" one for LHT, Lutter asserts. The Manila site expanded its operation and reached 3,300 employees before the pandemic, LTP disclosed in early 2020.
LTP was established as a base maintenance specialist for Airbus aircraft and thereby became LHT's premier location for A380 heavy checks, attracting multiple operators of the type in and outside of Asia. It branched out to supporting Boeing 777s too, and has become the MRO group's "hub" in Asia, says Lutter.
Despite the effects of the pandemic, he argues that LHT's original reasons to invest in the Philippines are "still valid today". LHT disclosed earlier this month that it has suspended construction of a 10th hangar at the Manila site amid wider efforts across the group to curb capital expenditure because of the crisis.
Lutter cites as key requirements for LHT's investment in Manila the consistent support by successive governments for the MRO provider and a history of aviation activity in the Philippines that has led to colleges and other education facilities establishing a "very good" training infrastructure for aircraft technicians.
But above all, Lutter praises the staff's work ethic and describes the company's employees as "really great workers, very dedicated, hard working and well-educated". He says: "I have only got the best words for my colleagues."
In his view, employees at the Manila site strike a balance between manual and academic skills that enables them to completes the physical aircraft work while retaining a willingness to develop new skills and abilities.
"Maintaining aircraft is a little bit like a hospital operation… every day different," says Lutter. "We need people that are adaptable and also responsible. For aviation, you cannot find better resources than here in the Philippines."
This analysis was written by Michael Gubisch, aerospace editor at Cirium.