German start-up Lilium has completed the first full transition from hover to wing-borne flight at 100kt (185km/h) using its Phoenix 2 unmanned demonstrator electric vertical take-off and landing (eVTOL) aircraft.
Performed at the Atlas flight-test centre in Andalusia in southern Spain, the transition for the first time involved the electric fans in both the wings and the canards tilting for forward flight. A transition using solely the wing fans was achieved in June.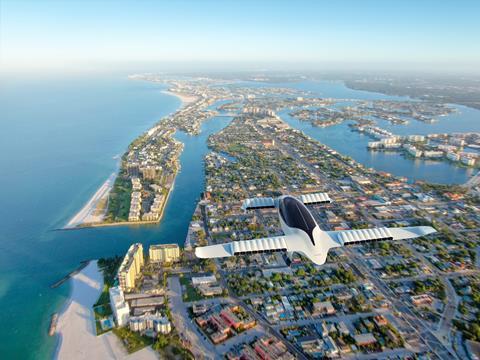 In a quarterly letter to shareholders released on 28 September, Lilium says the flight testing validates its computer modelling of the manoeuvre. "At each juncture, our computer models predicted what the real-world aircraft would do – something now validated again by real-world testing."
An additional unmanned test asset, Phoenix 3, will shortly join its sister aircraft, which has been flying at the Atlas site since the spring.
While the Phoenix 2 uses 36 electric-powered ducted fans, the eventual production Lilium Jet will use just 30 fans. It is unclear whether the Phoenix 3 demonstrator will feature a 30- or 36-fan configuration.
Additionally, Lilium claims internal testing of its batteries indicates they will achieve the company's target of at least 800 cycles at service entry. These results will now be independently verified, it adds.
Range and payload capabilities of the production Lilium Jet will hinge on the ability of the Zenlabs/Customcells-sourced cells to deliver as promised. Lilium says previous internal testing has validated the battery performance.
A typical flight at the maximum take-off weight of 3,175kg (7,000lb) would see the six-passenger Lilium Jet travel 94nm (175km), according to a company presentation.
Assembly of the first production-conforming Lilium Jet is expected to begin in the first half of 2023, leading to a piloted maiden sortie in 2024.
Lilium has so far accumulated tentative agreements for 483 Lilium Jets, it says, and intends to begin converting these into "binding commercial agreements", including pre-delivery payments, by the end of 2023. Service entry is set for 2025.
Additionally, it plans to launch sales of the Lilium Jet to private individuals, with the aircraft to feature a "tailored cabin and dedicated services on attractive financial terms"; an orderbook for this model will open later this year, Lilium says.
Cash spend in the three months to end-June was €63 million ($60 million), in line with the €60 million outlay in the previous quarter.
However, Lilium anticipates an increase in spending in the second half due to "increased supplier contracting activity". This will be offset by "active budgetary measures, including headcount control", it adds.
Full-year spending will be around €250 million, it says. Liquidity at the end of the second quarter was €229 million, while an additional €75 million line of credit became active on 24 June.

Dominic Perry is deputy editor of Flight International but also contributes extensively to flightglobal.com. Although specialising in the coverage of the helicopter industry, he has written on most topics in aerospace – be they commercial, defence or business aviation. In addition, there has been an increasing focus on the decarbonisation of the industry and zero-emission flight initiatives.
View full Profile