Germany's Lilium expects in the near future to resume flight tests of its five-seat Lilium Jet demonstrator, even as it works towards the arrival of a larger seven-seat prototype in 2022.
Flight-test activity at the German start-up has been curtailed since early 2020 when an electrical fire destroyed its previous five-seat demonstrator.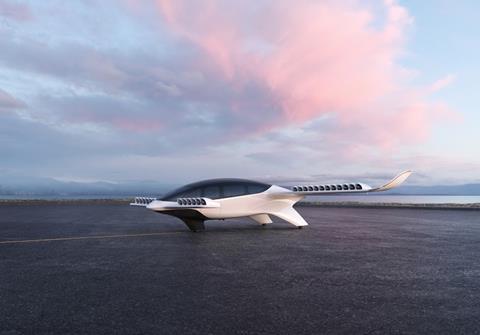 However, in the wake of a recent takeover and stock market listing announcement, and the switch to a larger aircraft, the company is keen to prove out its technology ahead of a certification campaign that is scheduled to last little more than a year.
Alastair McIntosh, a Rolls-Royce veteran who was appointed as Lilium chief technology officer in December last year, says the company is performing the "final close out" of ground-test activities ahead of a return to flight "in the next weeks".
He promises a "quite extensive flight-test campaign" through the summer, which should culminate in the battery-powered aircraft hitting its target speed of 160kt (300km/h).
The demonstrator will also perform the crucial transition to forward flight, a manouevre the previous five-seater did not undertake prior to its destruction.
However, McIntosh insists that with earlier scaled demonstrators having made the transition from vertical to wing-borne flight, there is "no reservation" about the ability to achieve that goal with a larger aircraft.
Although he admits that Lilium's target of achieving concurrent European and US certifications in 2023, ahead of service entry in 2024, is a "pretty demanding schedule", the jet's relatively simple design should enable rapid progress, he claims.
Aside from its 36 tilting ducted fans, the aircraft has no moving parts, no hydraulic system, is not pressurised, and has fixed landing gear, he points out. Any complexity is driven by the propulsion system, including the batteries and electric motors, and the flight controls.
A battery chemistry has been settled on, he says, although declines to provide details on the cells or their supplier. Similarly, no details on the avionics provider have been released, with McIntosh simply saying it is an "off-the-shelf" system that has been adapted for the role.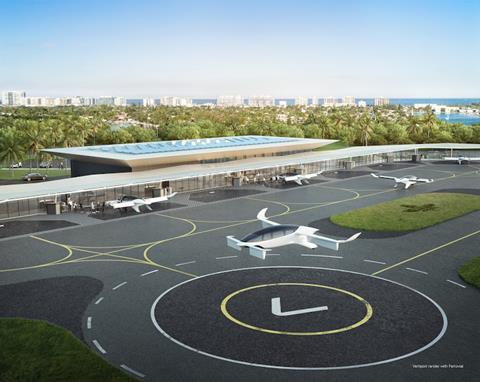 While the new aircraft can accommodate two more people – six passengers and a pilot – than the five-seat design, range on the Lilium Jet has been "pegged back" to around 200km (108nm) at service entry from 300km previously.
McIntosh says that figure will increase to 500km as battery energy density improves.
Wingspan on the jet is 14m (46ft), keeping it within the dimensions of existing helipad infrastructure. Similarly, with a maximum take-off weight of 3,175kg (7,000lb) – of which around 30% is batteries – the aircraft is at the upper limit of European regulations governing electric vertical take-off and landing vehicles.
McIntosh says Lilium has a basis for certification with the European Union Aviation Safety Agency and is working on a similar effort with the US regulator. Preliminary design review work on the seven-seater should conclude by mid-year, to be followed by the conclusion of critical design review activities in 2022.
A maiden sortie is predicted for that year, with certification flights beginning in 2023. Ultimately six vehicles will be used for the approval campaign, he says.
Under current plans, production at its base at Oberpfaffenhofen near Munich will ramp up from 25 aircraft in the first year, to 250 and then 400 aircraft in subsequent years, supporting the roll out of commercial services. So far, agreements are in place for operations in Germany and Florida.
Lilium argues that the architecture of its jet will be simple to adapt for future larger aircraft, while also keeping noise levels sufficiently low to maintain access to urban landing sites. Other competing designs which feature open rotor systems will struggle to achieve this, argues Lilium co-founder Dr Patrick Nathen.
"It is a straightforward approach to access higher market share," he says.
In recent weeks the company has published significantly more detail on its engineering approach than has been previously disclosed, seen as a response to a number of highly sceptical articles, notably in business magazine Forbes and German aerospace title Aerokurier.
McIntosh says the more open approach is designed to head off some of that criticism. "Anything that's new brings questions and challenge – if we are not communicating people jump to conclusions."