Lilium has selected Lufthansa's training arm to develop a programme that will deliver a pipeline of qualified pilots for its developmental electric air taxi, as the Bavarian start-up solves another part of its pre-launch puzzle.
Under the contract, Lufthansa Aviation Training (LAT) will initially develop a bespoke type rating course for qualified commercial pilots, allowing them to fly the Lilium Jet.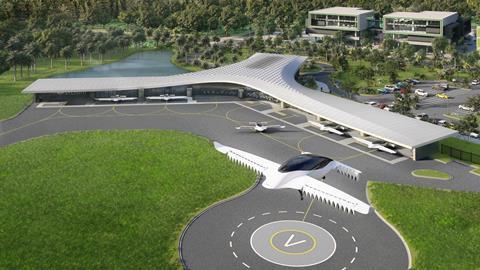 Lilium plans to launch operations in 2025 and needs to ensure that there are sufficient crews available to support that process and the rapid ramp-up of services that it hopes will follow, says Remo Gerber, chief operating officer.
Gerber says the partners will take advantage of new technologies, such as mixed- and virtual reality simulation, to "push the boundaries" and "optimise" the training syllabus.
With its tilting banks of electric-powered fans, and vertical take-off and landing capability, the Lilium Jet has a unique design compared with existing fixed- or rotary-wing aircraft and therefore requires a tailored training regime, he adds.
"The way we are looking at the curriculum is going to be highly adapted to the Lilium aircraft."
Gerber declines to reveal the planned annual pilot throughput. Although the launch of commercial operations could be achieved with a relatively modest number of pilots, Lilium's intention to "start scaling up [services] quite quickly", means the requirement is "quite intense".
However, Gerber is confident that the training can be made "affordable", allowing would-be aviators a path into the industry. "They will be flying and earning money at the same time," he says.
Gerber says that Lilium is contemplating potential funding solutions to assist with training costs, but has yet to settle on a preferred option, if any.
The training programme will be defined over the next 24 months, says Gerber. "The work really starts now. In a sense this is the beginning of the academy." A first batch of recruits will be required over the next three years.
A location has yet to be selected for the academy; LAT has eight sites in Germany, two in Switzerland and one in Austria, plus an additional facility in Phoenix, Arizona.
Lilium and LAT will also work together with the European and US regulatory authorities on certification of the training programme.
Lilium has yet to conduct a manned flight of its aircraft, with that milestone to come only when it flies the first certification article in 2021 or 2022.
Orlando in Florida was recently revealed as the launch location in the USA after striking a deal with the city authorities and Florida real estate specialist Tavistock Development.