German electric aviation start-up Lilium is aiming to sell its seven-seat Lilium Jet for an initial unit cost of $2.5 million, according to documents filed as part of its US stock market listing.
Lilium is merging with a US-listed 'blank cheque' company called Qell Corporation as it seeks additional financial resources to bring the jet to market.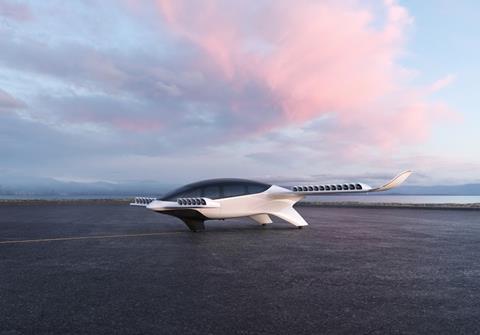 The cost estimate is contained in a registration document filed on 5 May with the US Securities and Exchange Commission as part of that process.
"At launch we expect jet unit costs of approximately $2.5 million, which we anticipate will decrease as we scale up our manufacturing operations," the document says.
It forecasts that a single jet will generate a profit of $10 million over its eight-year lifetime, based on annual revenue of $5 million and 25% margin.
However, in order to achieve that return, each vertical take-off and landing (VTOL) aircraft needs to cover "approximately 1,500 miles per day, or approximately 20 to 25 flights, with on average 4.5 out of 6 passenger seats filled, generating approximately $15,000 of revenue per day."
While the company's initial focus is on a seven-seater – accommodating six passengers and one pilot – a larger version is already under consideration.
"Lilium intends to also create a 16-seater version of the Lilium Jet based on the same architecture and technology, which could drive these unit economics even higher," it adds, while noting there is no guarantee such and aircraft will be developed.
Rather than intra-city transport, Lilium intends to focus on regional air mobility – the Lilium Jet is projected to have a range of 135nm (250km) at service entry in 2024. It is powered by 36 tilting ducted electric fans, in theory allowing a vertical take-off and then a transition to wing-borne forward flight.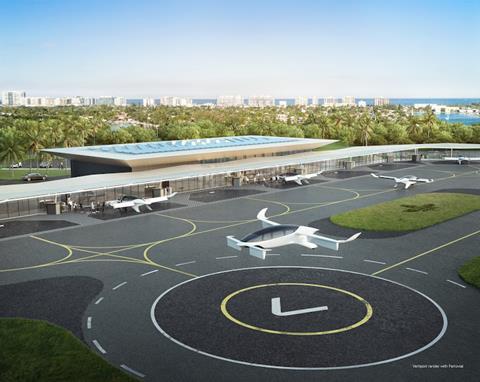 Lilium has stayed coy on the battery technology it intends to use for the jet, but the registration document reveals that it will use Li-Ion cells "based on a silicon-dominant anode combined with conventional NMC (Nickel, Manganese and Cobalt) cathodes and electrolytes".
"We believe this combination offers the best compromise of energy and power density at a low state of charge," it says. Testing has shown a "nominal" energy density of 330 watt-hours per kg, which it says supports its range projection.
The cells – an "evolution" of those used for automotive applications – should allow 800 charge/discharge cycles, measured until 80% capacity, it says. On that basis, each aircraft's batteries will be replaced two to three times per year "given the projected number of flight hours during the operation of an aircraft within passenger shuttle networks".
Charging should take a maximum of 30min, or 15min to 80% charge, it claims.
No details of the battery provider have been revealed, but the document describes it as a "leading battery technology supplier"; Lilium has secured "exclusive rights for the eVTOL market for this chemistry", it adds.
Chief technology officer Alastair McIntosh has previously indicated a maximum take-off weight of 3,175kg (7,000lb) – of which around 30% is the batteries.
Figures contained in the registration document show that for the year ended 31 December 2020, the company made a net loss of €188 million ($230 million), in the process spending €90 million on research and development work, up from €38 million the previous year.
"We expect our research and development costs to increase for the foreseeable future as we continue to invest in research and development activities to achieve our operational and commercial goals," the document says.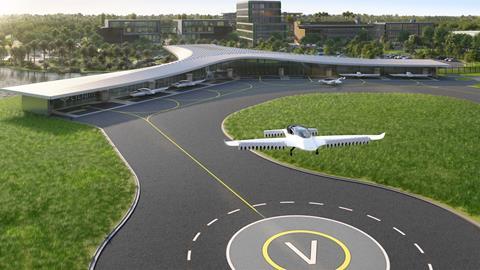 Lilium estimates that profitability on an EBITDA basis will come in 2025, assuming the jet enters service in 2024.
Turnover is projected to rise from $246 million in that first year of commercial operation to $1.3 billion in 2025, $3.3 billion in 2026 and $5.8 billion in 2027.
EBITDA starts at a loss of $180 million in 2024, turning to a profit of $70 million in 2025, and rising to $708 million, then $1.4 billion in subsequent years.
Annual production of the Lilium Jet will also increase from 90 units, to 325, to 600, ending at 950 in 2027.
While the aircraft will be flown by a pilot holding a commercial pilot licence in the initial phase, Lilium is hopeful this will change as regulations adapt.
"A future, more simplified pilot licence, which takes into consideration the high degree of aircraft automation and the full range of its capabilities, will ideally be developed and utilised to train air crew to operate the Lilium Jet and other eVTOL designs," it says.