Lilium's new chief executive says the start-up remains confident that it can obtain European certification in 2025 for its electric vertical take-off and landing (eVTOL) jet.
But former Airbus executive Klaus Roewe – who joined the company on 1 August – told investors on 28 September that flight testing of the Lilium Jet could still throw up unexpected issues.
"We are confident with 2025 but we only know now what we know today," he says.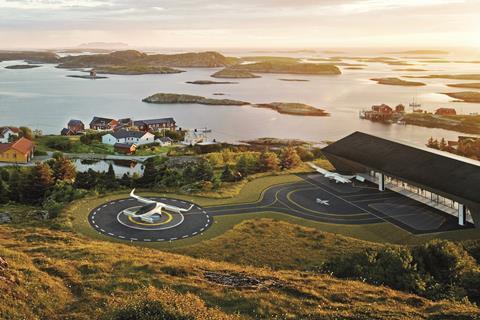 To date, flight testing has been conducted with a series of remotely piloted scaled demonstrators, the latest of which, Phoenix 2, carried out a high-speed full transition on 23 September from the company's Andalusian base in southern Spain.
An additional scaled test asset, Phoenix 3, has since joined its sister aircraft in Spain and will fly later this year. However, a production-representative prototype of the piloted Lilium Jet will not be airborne before 2024.
Known internally as "Pegasus", the certification article will feature 30 battery-powered ducted fans, rather than the 36 seen on the demonstrators, and will use a production-compliant battery system.
A critical design review milestone should be passed in mid-2023, giving the company around a year to assemble the aircraft.
"It takes so long because we want to do it thoroughly and with rigour," says Roewe.
Although he concedes there will be "challenges" in bringing the six-passenger jet into service, the company's 2025 goal should not be impacted, he says, noting: "A schedule with no margin is condemned to fail from the beginning."
Based on current test data and the company's modelling, Roewe says the Lilium Jet's "operational range" will be 94nm (175km), with a maximum range of 135nm, "the delta being reserves that you need to hold".
However, confirmation of those figures will only be confirmed when the full aerodynamic and propulsive efficiency of the aircraft is known. Full-scale windtunnel testing will begin shortly, he says, adding to ongoing ground trials of the ducted fans.
Lilium continues to work with the European Union Aviation Safety Agency (EASA) on the certification means of compliance for the jet, with around 28% still to be agreed.
Roewe says the most important items have already been ticked off, adding: "I would say it's a matter of keeping the momentum and rigour we have with EASA to get them done."
Lilium, like all start-ups with no revenue, needs to continue bringing in investment in order to fund its development spending. Chief financial officer Geoff Richardson says the company is evaluating its future requirements, including an inflow of pre-delivery payments (PDPs) from next year.
"I'm very confident that between the PDPs, future potential debt and potential equity opportunities that we will be able to extend the cash runway," he says. In addition, the company has recently applied for a "fairly significant government loan" from an undisclosed country, he discloses.
Such grants or loans are a "very attractive, non-dilutive part of the mix going forward", he adds.
Lilium will initially offer a four-passenger version of the Lilium Jet designed for the premium market, before bringing a 'shuttle' variant into service. It has amassed 483 commitments for the aircraft, with the most recent a 12-unit deal with Austria's GlobeAir.

Dominic Perry is deputy editor of Flight International but also contributes extensively to flightglobal.com. Although specialising in the coverage of the helicopter industry, he has written on most topics in aerospace – be they commercial, defence or business aviation. In addition, there has been an increasing focus on the decarbonisation of the industry and zero-emission flight initiatives.