Lilium still plans to become an operator of its electric vertical take-off and landing (eVTOL) Lilium Jet in the future but concedes this will not happen for several years following service entry.
Updating investors on its third-quarter performance on 6 December, chief executive Klaus Roewe said the plan was "not off the table" but was not an immediate priority.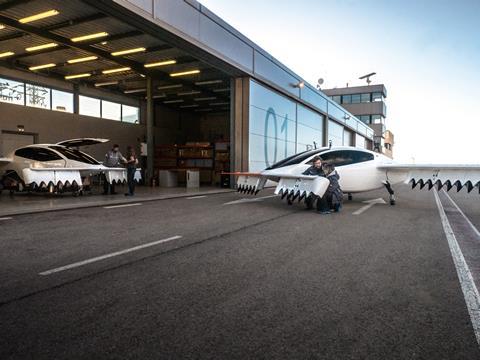 "We intend to pursue this, but our first intention and all our energy will be put together into getting the aircraft certificated," he says.
The first "one to two years" after entry into service will be dedicated to serving operators in the premium segment, he says, followed by its airline or general aviation customers for around another year.
Roewe says its "own network" remains under consideration but is "absolutely pushed behind the other two [segments]".
Flight-test activity has to date been performed with a solitary scaled unmanned aircraft, called Phoenix 2. An identical flight-test article – Phoenix 3 – has arrived at Lilium's facility in the south of Spain and is now in integration testing ahead of sorties beginning in the first quarter of next year.
Recent evaluations have covered speeds of up to 120kt (222km/h), including full transitions to forward flight, and measurements of flights in ground effect and of downwash.
Roewe says the arrival of the second demonstrator, plus the training of additional pilots, will enable a "much faster [tempo of] flights next year", paving the way for the arrival in the first half of 2024 of its production conforming prototype. Assembly of that aircraft, dubbed Pegasus, will begin in 2023.
In parallel, Lilium will next year begin "building and testing our first production battery packs" for the certification aircraft. Roewe says the firm is still "fine-tuning" its "battery recipe" to ensure the correct combination of power and endurance.
Tests of the cells continue, both internally and externally, to validate its selection, with the results so far "absolutely coherent", he adds.
Germany-headquartered Lilium aims to secure certification for the Lilium Jet in 2025. It has agreed the certification basis for the aircraft with the European Union Aviation Safety Agency, alongside 75% of the means of compliance. Meanwhile, the certification plan is in process: 80% has been submitted to the regulator, with the remainder drafted and ready.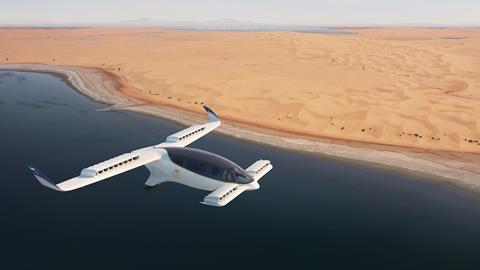 Lilium also continues to firm up its supplier base: around 75% of the "total expected aircraft bill of material cost" has now been selected or contracted. New equipment providers continue to be added to the programme, it says, most recently for the engine fans and sidestick inceptors.
Total cash spend in the third quarter was €69 million ($72 million), up slightly on the previous three-month total of €63 million, and in line with target budget of €250 million in 2022.
However, faced with a tougher macro-economic climate, the company is engaged in "significant cost conservation measures" as it works to finalise its budget for 2023, says chief financial officer Geoff Richardson.
Overall spending next year will be in line with 2022's total, says Richardson, but will shift more towards supplier payments to ensure the ramp-up. "We are really defining what needs to be happening and eliminating anything that's nice to have," he adds.
Having completed a capital raise of $119 million on 22 November, Lilium continues to seek further "non-dilutive" sources of funding. These include government grants and subsidies, plus pre-delivery payments (PDPs) from customers.
The first of these may soon be trickling in, following a deal announced yesterday with UK operator eVolare for 10 firm orders for the Pioneer edition of the Lilium Jet, plus 10 options; the PDP on this contract is due to be made in early 2023. Sebasiten Borel, senior vice-president, commercial, expects additional PDPs will be received next year as tentative commitments transition to firm contracts.
Lilium now has a "total order pipeline" for 603 Lilium Jets, including a recently announced deal with Saudia for up to 100 aircraft.
Although there are well-known challenges to operating in a high-temperature environment like Saudi Arabia, Lilium remains confident its aircraft will handle the extreme conditions.

Dominic Perry is deputy editor of Flight International but also contributes extensively to flightglobal.com. Although specialising in the coverage of the helicopter industry, he has written on most topics in aerospace – be they commercial, defence or business aviation. In addition, there has been an increasing focus on the decarbonisation of the industry and zero-emission flight initiatives.
View full Profile