Updated: Pratt & Whitney has rescinded a previous emailed statement saying AVIC had terminated the contract with Pratt & Whitney Canada for the MA700's PW150C engines. The company now states that the contract has not been terminated, but acknowledges that a Canadian export permit for the engines has not been granted.
The AVIC Xian Aircraft MA700 turboprop faces an uncertain future owing to issues with export licenses related to the Pratt & Whitney Canada PW150C engine.
"Pratt & Whitney Canada applied for an Export Permit in July 2018," says Pratt & Whitney.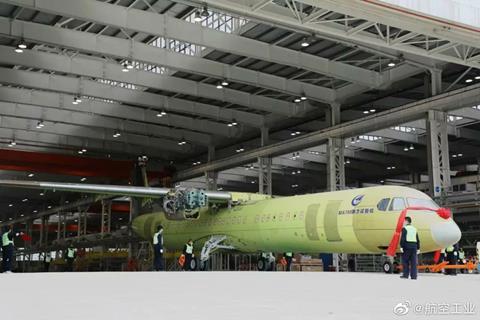 "This permit was refused in 2020, where Global Affairs Canada has denied Pratt & Whitney Canada an export permit request that is required to ship PW150C engines to AVIC XAC Commercial Aircraft as part of the MA700 development programme."
Global Affairs Canada, for its part, says it does not comment on specific cases.
"Canada's export controls system is designed to control the exports of military, dual-use and strategic goods and technology in a lawful manner consistent with Canada's foreign and defence policies, security interests and international obligations," it says. "All permit applications for controlled items are reviewed on a case-by-case basis under Canada's robust risk assessment framework, including against the Arms Trade Treaty criteria which are enshrined in Canada's Export and Import Permits Act."
The denial of the PW150C export license reflects the poor overall relationship between Beijing and Ottawa.
In December 2018, Chinese authorities detained two Canadian citizens, Michael Spavor and Michael Kovrig, on espionage charges. This was in retaliation for Ottawa's arrest of Huawei executive Meng Wanzhou at the behest of Washington DC, which wants to extradite her for charges related to circumventing US sanctions against Iran. On 10 August, Spavor was sentenced to 11 years in prison. Kovrig awaits sentencing.
Canada has also joined with other countries to condemn Beijing's treatment of ethnic minorities in Xinjiang, and its curtailing of democratic freedoms in Hong Kong.
Political acrimony aside, the loss of the 5,000shp PW150C powerplant is an all but existential blow to the 86-seat MA700. Indeed, the aircraft's original business case largely relied on the PW150C.
At the November 2014 iteration of Airshow China in Zhuhai, AVIC predicted a bright future for the MA700, set to be the world's first fly-by-wire (FBW) turboprop. The aircraft was to combine the operating economics of the ATR with the speed of the De Havilland Canada Dash-8 Q400. Crucially, the PW150C would offer 10% lower fuel burn than competing aircraft.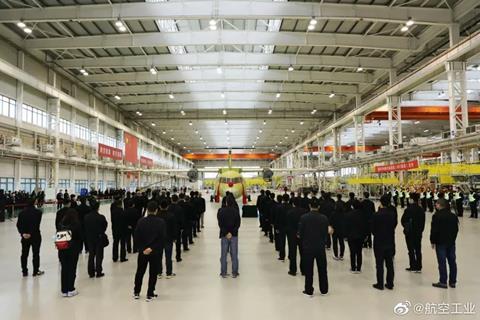 A first flight was planned for 2017, followed by Civil Aviation Administration of China and US Federal Aviation Administration certification in 2019. In August 2015, AVIC disclosed 185 commitments for the type from airlines and leasing companies.
These ambitions have come to naught, and AVIC has no clear options about how to re-engine the MA700. The company's smaller MA60 uses the 2,750shp PW127, and China has yet to produce a turboprop in the PW150 class.
On the military side, the Harbin Engine Factory produces the 4,250shp WJ-6 turboprop, a copy of the Ivehcenko AI-20, for the Shaanxi Y-8/9 tactical transport and AG600 amphibian. Updating and integrating this engine with a modern commercial airliner would be a significant task, and create further delays. Such a course is also unlikely to do much for the MA700's economics.
Another possibility could be a version of the 3,000shp Klimov TV7-117ST-01, which powers the developmental Ilyushin Il-114-300 turboprop.
There is also a rumour that the MA700 will fly with the PW150A engine that powers the Q400, but this is unlikely as there are no Q400s operating in China. The only Q400 to have flown in China was operated by Air Changan, but this was written off in 2002 after crashing into a fence when a ground engine test went awry, causing the aircraft to be written off.
This leaves the indigenous development of a new turboprop for the MA700. China has the capability to design and produce aircraft engines, but this course will take years. Moreover, given China's record with engine development it is debatable whether such an engine would offer equivalent or better performance than the PW150 series.
Whatever AVIC does about the MA700's powerplant, it will face lengthy development challenges. A different engine will also add to the type's already daunting certification challenges – especially overseas.
Apart from the small matter of engines, the programme appears well advanced, albeit with delays. In January 2020, Chinese state news agency Xinhua reported that the first MA700 would roll off the production line in mid-2020, with a maiden flight planned by the end of the year.
Up until September 2019, when the first MA700's fuselage was joined with the wings, AVIC had provided regular updates about the programme. Images that emerged on Chinese social media in March 2020 show the first aircraft largely completed – although lacking engines.
Even if AVIC sorts out the engine issue, it could face additional challenges given the MA700's extensive reliance on western suppliers. These challenges largely stem from the USA's inclusion of AVIC Xian Aircraft in the Military End User (MEU) list that was published in December 2020.
MEU inclusion was unsurprising given the company's broad portfolio of military aircraft, including the H-6 bomber, Y-20 strategic transport, and developmental H-20 stealth bomber.
MA700 suppliers comprise a who's who of western aerospace firms. Collins Aerospace supplies the MA700's avionics. Parker Aerospace announced in 2018 that it would supply the FBW flight control actuation systems, on top of providing hydraulic system and landing gear servo valves. Other US suppliers include Honeywell (auxiliary power units) and Eaton (fuel system components).
Collins, Parker, and Honeywell have yet to reply to FlightGlobal's emails in relation to AVIC Xian's MEU status. A source at one supplier, however, says there are concerns about obtaining US export licenses for MA700 work.
It is important to note that exporting to companies on the MEU list is not impossible, but does entail additional scrutiny. Nonetheless, poor relations between Beijing and Washington, as well as China's proclivity for industrial espionage, are likely to see US officials take a much harder line about exporting valuable aerospace technology.
Between engines and systems, there appear to be no easy answers for the MA700. The 2010s saw western aerospace firms rush to get access to Chinese aircraft programmes. The fraught geopolitics of the 2020s will put paid to this trend – and possibly throw it into reverse.

Greg Waldron is the Asia Managing Editor of FlightGlobal, responsible for the team's airline, aerospace, and defence coverage across the region. He has worked at the company since 2009. In the airline space, Waldron has conducted dozens of interviews with airline leaders in the Asia-Pacific. He also covers areas such as MRO and safety. On the defence beat, Waldron has written extensively about the rise of Chinese airpower, as well as broader airpower developments around the region, such as indigenous fighter programmes, and regional acquisitions of foreign equipment. In addition, Waldron writes about commercial helicopters in the region and business aviation. Waldron worked has a freelance journalist with his work appearing in several business publications.
View full Profile