Electric motor manufacturer Magnix will later this year begin the conversion of a De Havilland Dash 7 to run on battery power as part of a NASA-backed project.
Magnix intends to fly the converted turboprop (C-FJHQ) in 2025, leading to a "quite an extended flight-test campaign", says Mindy Guzman, vice-president of manufacturing at the US firm.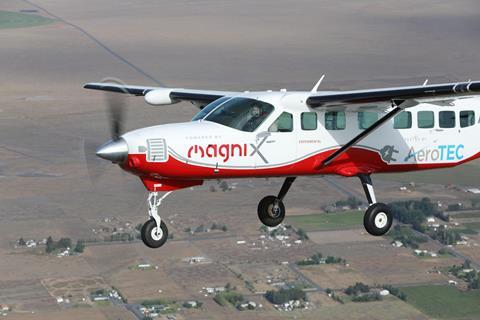 Under the Electrified Powertrain Flight Demonstration (EPFD) project, Magnix will replace two of the Dash 7's four Pratt & Whitney Canada PT6A engines with its Magni650 electric motors and two 450kW/h battery packs.
The aircraft has been acquired from Canadian regional carrier Air Tindi, which serves remote communities in the country's Northwest Territories.
Air Tindi will also assist with cold-weather testing of the electric propulsion system, says Magnix chief technical officer Riona Armesmith.
Conversion of the aircraft will begin later this summer, says Guzman, following a strip-out of the cabin and initial baseline flights.
NASA's NEAT electric aircraft test facility in Sandusky, Ohio will also be used to test the Magni650 motors.
Best known for its motors, Magnix has also recently begun to design the electric storage system as well; the EPFD aircraft is the first application of the entire powertrain, notes Guzman.
Armesmith says being in charge of the whole system enables Magnix to drive efficiencies through integrating the components "really tightly".
"We can offer something to the market that's a better overall solution," she says.
Magnix was driven to design its own battery packs after dealing with a range of third-party solutions. "We found that a lot of the battery suppliers didn't really understand aerospace and how to integrate them onto the aircraft," she says. "It just makes sense for us."
Magnix continues to evaluate different cell suppliers to ensure claimed performance matches real-world testing.
Meanwhile, Magnix continues to track towards US Federal Aviation Administration certification for the Magni650 in late 2025 or early 2026. A pre-certification version of the motor is already flying aboard Universal Hydrogen's converted Dash 8-300.
A first application for the motor will be for an undisclosed customer aboard a Cessna Grand Caravan conversion. "That is the first configuration we are designing for," says Guzman.
Italian airframer Tecnam recently announced it was pausing development of its all-electric P-Volt on concerns that battery technology was developing too slowly to guarantee a "viable" product.
But Armesmith says this is not Magnix's experience with the technology. "We can't agree with that [viewpoint] because we are flying aircraft and seeing totally different results."

Dominic Perry is deputy editor of Flight International but also contributes extensively to flightglobal.com. Although specialising in the coverage of the helicopter industry, he has written on most topics in aerospace – be they commercial, defence or business aviation. In addition, there has been an increasing focus on the decarbonisation of the industry and zero-emission flight initiatives.
View full Profile