Malaysia Airports has signed a memorandum of understanding with urban air mobility (UAM) company Volocopter, as well as with vertiport firm Skyports, to explore the potential deployment of electric air taxi services in Malaysia.
Under the partnership, the three companies will first conduct a feasibility study "examining suitable vertiport solutions to enable the safe take-off and landing of passenger electric vertical take-off and landing (eVTOL) vehicles, considering factors such as demand, customer flow, and how to integrate UAM operations".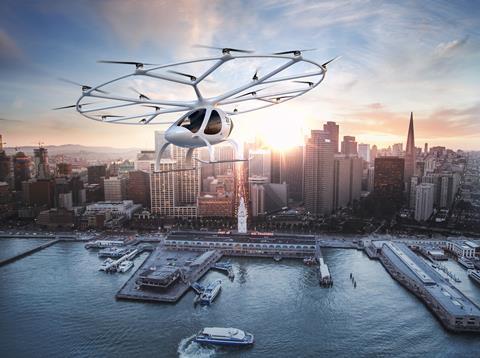 Malaysia Airports hopes to start electric air taxi services at Subang's Sultan Abdul Aziz Shah airport, which is south of Kuala Lumpur. It states that the collaboration will come under the auspices of a five-year airport regeneration project, which hopes to turn the airport into a business aviation and aerospace hub.
Apart from Subang, Malaysia Airports hopes to roll out electric air taxi services across Malaysia.
Skyports will contribute its expertise in vertiport development and operation, while Volocopter will "assess the deployment of eVTOL aircraft and operations of urban air taxi services from vertiports" at the airport.
Says Volocopter chief commercial officer Christian Bauer: "The Southeast Asian market is one of the largest and most interesting ones for UAM due to its geographical layout and dense population. Our feasibility study will help give us insights on demand, customer expectations, and airport integration, which we can apply to other markets in the region."
Volocopter is already working on electric air taxi services in neighbouring Singapore, having flown a manned test flight across the city-state's central business district in 2019. Skyports, meanwhile, has vertiport infrastructure projects in development in Singapore and other parts of Asia, as well as in Europe and North America.
Malaysia Airports group chief Dato' Mohd Shukrie Mohd Salleh says the airport operator's role will be to "provide end to end, mid to high value capabilities and solutions that are anchored by top tier operators".
He adds: "Air taxi technology and revolution is the next big thing that we want to see happen in Malaysian aviation. With Sultan Abdul Aziz Shah airport offering a synergistic ecosystem within the aviation and aerospace sectors, it is timely for us to explore this new service as it complements other key developments of the regeneration initiative."